A-List Stars Want Ricky Gervais To Do Third Season Of 'Extras'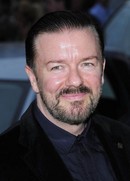 Tom Hanks and Kevin Bacon are itching for a role in Ricky Gervais' sitcom Extras - but he is adamant he has no plans for a third season of the show.

The Office creator attracted showbiz A-listers including Robert De Niro, David Bowie and Kate Winslet to parody themselves in the comedy about a struggling actor.

Gervais insists he has no desire to relaunch the show for a third season - but his co-star Ashley Jensen has revealed a host of Hollywood stars are waiting in the wings if he changes his mind.

Jensen tells U.K. TV show This Morning, "I would love to do it again, I really would. There are still people who want to do it. I know for a fact they could get so many people... I think Tom Hanks and Kevin Bacon, people like that (are interested)."