A Few Of The Best Movie Musicals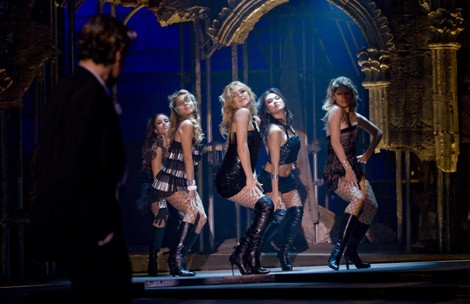 On Christmas Day a brand new musical hits the theaters, titled "
Nine
," and it got Starpulse thinking about the musical genre. The hits on Broadway always keep people wanting more, and over the years musicals have been beloved on the big screen as well. They've won Oscars, attracted huge movie stars, and everyone loves a good dance routine. Here's a look at the best movie musicals in no particular order.
"
The Sound of Music
," made in 1965, is an Academy Award winning movie and one of the most successful film musicals of all time. After being adjusted for inflation, it is rumored the movie made the equivalent of a billion dollars by 2009 standards, and it is no surprise. Even today the film is universally known thanks to the star power of
Julie Andrews
and famous songs such as "My Favorite Things" and "Do-Re-Mi." It's a movie set into two acts, the first about nun-to-be Maria (Andrews) who is sent to be a governess for Captain von Trapp's unruly children. Von Trapp is played by the handsome, debonair
Christopher Plummer
. Maria connects to the children and in time falls in love with their father, and act two is about the rising tensions with the Nazi party and Austria's plight. A musical that brings together the fight against Nazism and epic romance? How can that not be memorable!
"
My Fair Lady
," made in 1964, is another winner of the most prestigious Oscar awards, including Best Picture, Best Actor, and Best Director. It is based on George Bernard Shaw's stage play "Pygmalion" and stars It Girl
Audrey Hepburn
and Rex Harrison. Henry Higgins (Harrison) is an arrogant professor of phonetics and makes a bet with his friend that he can turn any woman into a lady. With his knowledge and skills alone he can convince everyone at the next embassy ball that his pupil is a duchess. They find the loud mouthed Cockney flower girl Eliza Doolittle (Hepburn) and train her; Higgins will win his bet and Eliza will be able to speak well enough to work in a real flower shop. In time however Eliza grows accustomed to being treated with class and respect, and Higgins grows accustomed ... to her face. It has top notch acting, music, and an ambiguous romantic turn.
"
Chicago
," released in 2002, is yet another Oscar winner. This is going to be a trend on this list, because everyone loves a good musical. "Chicago" is exceptional because of its black humor and the emergence of surprise belting voices from
Catherine Zeta-Jones
,
Renee Zellweger
, and
Richard Gere
. Set in Chicago (where else?) in 1927, wanna be starlet Roxie Hart (Zellweger) murders her boyfriend when she finds out he's not actually trying to make her a star like he promised. Her hapless husband has faith in her anyway and hires a slick attorney named Flynn (Gere) to get him out. Meanwhile she has competition in the form of vicious and sexy Velma (Zeta-Jones), and both ladies are seeking fame by using their killer reputations to get attention. It is a dark movie and snarky about the media frenzy, plus the dance numbers are gorgeous and everyone's salaciously funny.
"
The Wizard of Oz
," released in 1939, was based on a children's book and at the time of its release was something of a phenomenon. This is based on the beautiful technicolor shots of Oz and the world that Dorothy finds herself in. There was nothing quite like starting in black and white and then awakening into a world of vivid, fantastical colors. The story is about Dorothy Gale (
Judy Garland
) who is scared an evil woman would take away her dog Toto, and she gets knocked out when a tornado hits her home. She wakes up and the house is in the tornado, and when it all settles ... she finds herself in a magical, beautiful world. Her house has killed the evil Wicked Witch of the East and she is celebrated by all of Munchkinland, but if she wants to get home she has to find her way to the Wizard of Oz. She encounters new friends and obstacles on the way. The song "Somewhere Over The Rainbow" is one of the most famous musical songs of all time, and there have been countless adaptations and stage versions of this sweet (if sometimes disturbing) film.
"
Singin' in the Rain
," made in 1952, has one of the most iconic dance scenes of any film, and that's because the incredible
Gene Kelly
stars in it. In the famous dance scene, Kelly was actually sick at the time and did it all in one take. Amazed? You should be! The musical is actually a parody about Hollywood during the time that they moved from silent films into talking films, and Kelly stars as Don Lockwood. Don is a silent film star who often does movies with his constant partner Lina (Jean Hagen), but when their newest flick is converted into a talkie, they have a real problem. Lina's voice is a disaster. They decide to dub her voice with a chorus girl named Kathy (Debbie Reynolds) who Don is falling in love with, but Lina isn't too happy with losing her co-star to some nobody. This was at the top of AFI's 100 Years of Musicals list, and it will get you dancing and laughing within the first few minutes.
"
Moulin Rouge
," made in 2001, breathed life back into the musical world when it took the world by storm. It was the first musical nominated for Best Picture at the Oscars in 22 years, and it was a fascinating blend of modern music with stunning 19th century setting and wardrobe.
Ewan McGregor
stars as Christian, a sweet young writer who moves to Paris to become a Bohemian and gets adopted into a group of play writers for the
Moulin Rouge
. It is there he sees Satine (
Nicole Kidman
), the beautiful courtesan, and through mistaken identity they meet and fall in love. They start to have a secret affair as he writes a play for them, although they must hide their love from the jealous and arrogant Duke (
Richard Roxburgh
) who wants her only to himself. This movie was gorgeous, chaotic, wild, and exciting in only the way director Baz Luhrmann can promise, and it had an amazing soundtrack with new versions of songs from
Madonna
,
Elton John
,
The Police
, and even
Nirvana
.
Honorable mentions go to Cabaret,
Guys and Dolls
,
West Side Story
,
The Rocky Horror Picture Show
,
Mary Poppins
, Funy Girl,
Grease
,
Hairspray
,
Sweeney Todd
, Oklahoma,
Tommy
.
Story by
Chelsea Doyle
Starpulse contributing writer
Follow Chelsea on twitter at http://twitter.com/mustbethursday.