A Few Minutes With...Leon Timbo on 'Introducing Leon Timbo'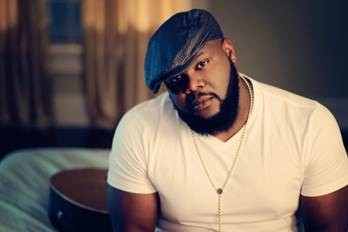 His recent release is entitled Introducing Leon Timbo. It's a direct title to introduce the R&B singer, musician, and humanitarian. BFTV recently got introduced to all the sides of Leon Timbo.
Musically, he's been compared to Seal, performed with the likes of R. Kelly and Tyrese, and once inked a record deal with Kenneth "Babyface" Edmonds. He recalls being invited by the latter to the home of uber-producer David Foster, the hitmaker who's produced for the likes of Whitney Houston and Prince, and ending up performing with the two of them. "I'm sitting there between Babyface and David Foster," he says. "David gets on the piano and I get on the guitar and we begin singing." (He is currently signed with Luther "Mano" Hanes and Riverphlo Entertainment.)
It's great company to keep, especially as Leon's story is different from that of many musical artists - he did not always want to be a musician. He didn't start singing until he was 16 and didn't pick up a guitar until his early 20's. "Music wasn't something that was in my family," he explained. "I grew up in church, but the reality of me being musical didn't really take place until my teens."
Music came onto his radar when he was writing poetry, and then "It kind of became a passion of mine, because I wanted to take the words that I had written and put them to some kind of melody," he said.
That started Leon's journey as a professional musician. Asked what's surprised him about the road he's taken, he said, "To be honest with you, everything has. I just did not think it would be what it was. You see beautiful music and you experience beautiful music on stage and on television and all of that, but the reality is, it takes an experience to write and you live that experience and then you document that experience. That experience gives you your connection with your audience. That was a journey I didn't quite expect."
He released the three-song 'single' in October, and is now looking forward to "a couple of tours" prior to the debut of his full album, expected in early June. You can listen to "Don't Call," one of the songs recently released, at the end of this article.
In addition to connecting with his audience musically, giving back is also a big part of what makes Leon who he is. When he's not in the studio, you're likely to find him working with a variety of groups on a number of good causes, from children's charities to those dealing with HIV and AIDS. He concentrates his work in the three cities close to his heart: his native Jacksonville, FL as well as Atlanta and Cleveland. Some of the groups he supports are the Jacksonville Community Rehab Center, the Hope and Light Foundation in Atlanta, and Cleveland Church on the North Coast, as well as St. Jude Children's Research Hospital.
Leon brings that same desire to impact the lives of others back to his music. "My career goal is pretty lofty, although very simple," he explained. "I want an opportunity to give an individual my view, my insight, my experience on life - to give them the ability to see themselves differently, to see people differently. I'm really passionate about having that experience, because I'm crazy enough to think that I have something to say."
You can follow Leon Timbo on Twitter (@LeonTimbo). Introducing Leon Timbo is availble on iTunes now.
For more from Brittany Frederick, visit my official website and follow me on Twitter (@tvbrittanyf).
(c)2013 Brittany Frederick. Appears at Starpulse with permission. All rights reserved. No reproduction permitted.