A Few Minutes With... 'Touch' Star David Mazouz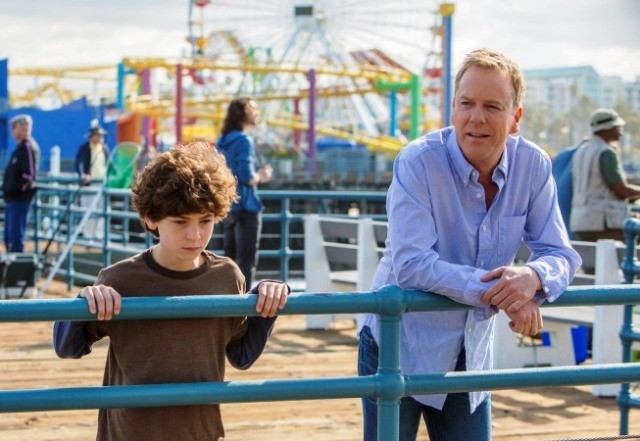 FOX's Touch is in its second season - and at the heart of the sprawling drama is the mute but extraordinarily gifted Jake Bohm, played by David Mazouz. BFTV recently checked in with David to find out what he's enjoyed about season two so far, and what it's like for him to inhabit a character who never speaks.
"I get really excited when I'm reading the scripts," said the young actor, who took his first acting classes at age five and landed his first movie at age eight. When it comes to season two of Touch, David's interest is piqued by the developing bond between Jake and his father Martin, played by award-winner Kiefer Sutherland. "Jake and Martin getting close is something that I'm looking forward to watching."
What's it like for him to share the screen with Sutherland, the veteran actor who took home an Emmy, a Golden Globe and two Screen Actors Guild Awards for his work as Jack Bauer in FOX's 24? "He's an amazing guy. Such a good actor," he said. "He's a great actor to learn from. He's taught me so many things."
In tonight's episode, Jake and fellow gifted child Amelia (Saxon Sharbino) escape their respective parents, sending the adults on a race against time to recover them before someone else can find them. It's the next part of an ongoing story that's moved away from exploring seemingly random connections around the world and toward being a conspiracy thriller. Asked how or if he keeps up with everything going on in the world of Touch, David explained, "I know what's going on, but I kind of just focus on Jake. In the scenes themselves, when other people are talking, I'm focusing on reading in my notebook."
After guest spots on Criminal Minds, Mike and Molly, and The Office - where his character's father was played by another 1980's film star, James Spader - David is enjoying his first TV leading role. What's his favorite part of going to work every day? "Everything is so amazing but I would have to say the people," he continued. "The cast and the crew are so amazing. They're all teaching me things."
Like his character on Touch, David isn't your average eleven-year-old. While Jake is fascinated by numbers, David is interested in maps and geography. His favorite TV shows are Seinfeld and I Love Lucy, and his favorite movies include The Losers and the classic Singin' In The Rain. And he's already written his own material at The Improv, where he studied musical and sketch improvisation.
He has his whole career ahead of him, and there are plenty of people that David hopes to collaborate with in the future. "There's a lot of people I'd like to work with," he said. "J.J. Abrams, Steven Spielberg, Stephen Daldry, Sean Penn - and I would really like to work with Robert De Niro [and] Leonardo DiCaprio." But first, he still has plenty of number sequences to figure out.
Touch continues its second season at 9 PM ET/PT tonight on FOX. You can check out a clip from tonight's episode with this article.
(c)2013 Brittany Frederick. Appears at Starpulse with permission. All rights reserved. No reproduction permitted. Visit my official website and follow me on Twitter at @tvbrittanyf.