A Few Minutes With... The Stars of 'The Inbetweeners Movie'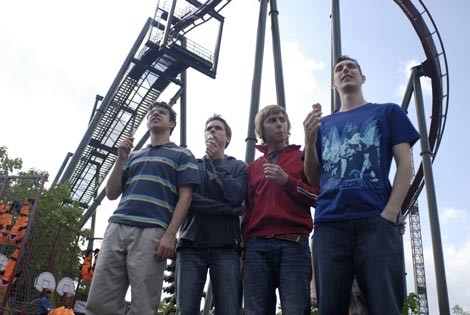 One of British television's cult hits has returned to the United States - this time on the big screen and with even more debauchery. The four stars of The Inbetweeners - Simon Bird, Joe Thomas, James Buckley and Blake Harrison (from left above) - joined me recently to chat about wrapping up the series with The Inbetweeners Movie, and what it's like for the flick to land in America.
For those of you who don't know about the original series, it revolves around four suburban teenagers - overly sarcastic Will (Bird), romantically frustrated Simon (Thomas), sex-obsessed Jay (Buckley) and the slow-witted Neil (Buckley) - who get themselves into more than their fair share of trouble. It's hilarious, highly inappropriate, and won the award for Outstanding Contribution to British Comedy at the 2011 British Comedy Awards. The complete series is available on DVD for under $30.
Given that the movie was released in the United Kingdom last year, it's a bit surreal for the foursome to be revisiting it for purposes of introducing it to US audiences. "In our head the movie was finished ages ago," said Bird. "We filmed it eighteen months ago, it came out a year ago and I'd kind of forgotten about it."
"We always think we've finished with this show and then we always find that there's more life in it," concurred Thomas. "It's really nice, actually, that it has reached America. I'm really delighted that it is being released out here. US comedy is very important to us and we're kind of quite chuffed to be making even a tiny dent."
"We're very happy to be here and we'll take any excuse to come to the US and talk about our film. We're very grateful to do that," agreed Buckley. "But as for the success, we'll wait and see what happens!"
"It's so different in England than in America," explained Bird. "In America, something when it becomes a hit, they'll then do it for ten years, whereas in the UK, if something's a hit, they'll do maybe eighteen episodes. Shows aren't written by a team like they are here. They're written by one or two people."
"In Hollywood, actors hold such a huge amount of power. They can decide who they want to direct the film. [They] decide on the script. No, you're just an actor, do as you're f--king told," quipped Buckley. "I think I'm a dying breed. I don't need a seat with my name on it. I had a chair with my name on it and I never sat in it. I felt too embarrassed."
If you haven't already guessed from the above, the cast bear very little resemblance to their neurotic, often troublemaking alter egos. "We're pretty boring," quipped Bird, who added that he doesn't see future installments of The Inbetweeners ahead. "I don't think we'll do anymore."
"We've been doing it for such a long time. Our lives have changed just by getting older. I've got a son and Simon's just got married," agreed Buckley. "We're too old. We're so far away from The Inbetweeners now."
That doesn't mean he doesn't miss playing Neil: "There's no other acting job like The Inbetweeners," he added. "If we behaved anything like we did when we made The Inbetweeners, we'd be fired from other shows. I miss that a lot. Everything else I do I have to take quite seriously. I just want to punch Joe in the balls and make a living from doing that."
It's Thomas who took the brunt of the abuse in The Inbetweeners Movie; a pivotal scene required him to spend a long period of time in the sea, not the first time he's been stuck in the water over the course of playing Simon Cooper. Of filming, he said, "I was in the sea for so long. I spent days in the sea. There was one particular night shoot where I got in the sea at like 8 PM in the evening and didn't get out of the sea until like 7 AM the next morning. I was having my meals in the sea.
"There's not very much to do in the sea," he added. "There's not really much of a scene there. It's just you and some water and to spend the night there is pretty dull. I'm basically not really acting, to be honest."
He was persuaded to take the plunge because "they sort of said 'It has to be you because it won't look the same.' They wanted close-ups. Actually, when they cut it in the film, it's just one shot from miles away. It could be anyone. So to a certain extent, most of what I did was pointless. There's no way you can see," he told us with good-natured laugh.
Now that the series and film have both wrapped, the actors have generally gone their separate ways; Buckley said he's "never had a set game plan" for the future, while Bird and Thomas are writing a comedy series together that revolves around three men who don't fight in World War One and are thus left behind in a village full of women who dislike them.
"We don't see each other that much," said Bird, but that doesn't mean they're not close: "It's like we're brothers. We're not in touch like every day but when we do see each other it slips back into the old dynamic pretty easily."
For more on The Inbetweeners Movie, check out the Film4 Minisite. You can also check out the trailer at the end of this article.
For more from Brittany Frederick, visit my Starpulse writer page and follow me on Twitter (@tvbrittanyf).  
(c)2012 Brittany Frederick/Digital Airwaves. Appears at Starpulse with permission. All rights reserved. No reproduction permitted.