A Few Minutes With... 'Switched at Birth' Star Vanessa Marano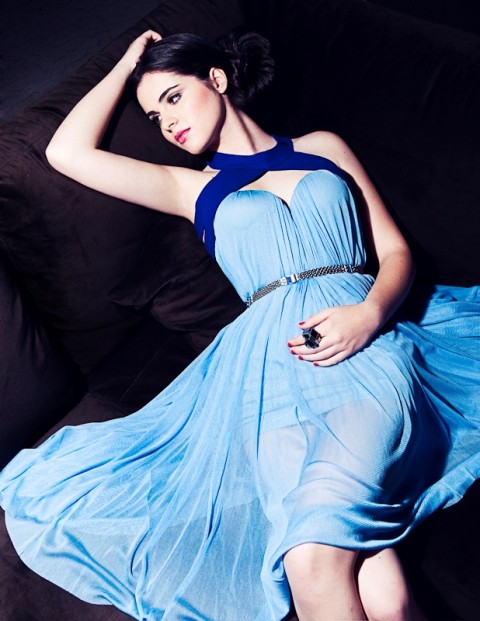 Vanessa Marano has won over ABC Family audiences as Bay Kennish in the network's original series Switched at Birth, but she's been charming TV audiences for awhile.
The actress has been a part of many small-screen families, from playing one of the kids of FBI agent Jack Malone on CBS's Without A Trace (alongside her sister Laura), to being the daughter of the Trinity Killer on Showtime's Dexter. Vanessa says that Switched at Birth is her favorite TV family to have been a part of so far: "I've never been so close to the cast before," she told BFTV in a recent interview.
Yet for Switched at Birth fans who want to see her as more than just Bay, there's plenty on her resume that she looks back on fondly. "I was on Gilmore Girls for a very long time. I'm very proud [of that]," she added. "I did a thing on Dexter. I played John Lithgow's daughter and I absolutely think he's a brilliant actor."
In addition to her work on Switched at Birth, Vanessa is also starring in the upcoming Lifetime TV-movie Restless Virgins, based on the book of the same name. "It's [about] a sex scandal that happened at a New England prep school," explained Vanessa, who plays the student whose discovery of a sex tape ignites the controversy. "That was a well-written script." The movie is expected to air in early March.
Vanessa has held her own amongst some notable talent, sharing the small screen alongside the likes of Virginia Madsen, Anthony LaPaglia, and Lisa Kudrow. One role that was particularly meaningful for her was the title part in The Brooke Ellison Story, in which she played a young girl who became quadriplegic. The project was actor-director Christopher Reeve's final directorial effort. "That's really close to my heart, that project," she said. After her role in the movie, Vanessa became an ambassador for the Christopher and Dana Reeve Foundation, and remains involved with the charity today.
Vanessa also has a strong commitment to learning, whether it's on set from her peers or in the classroom. "I try to stay in school as much as humanly possible. If I'm not working, I try to get a class in here and there," she explained. "I just want to learn."
Having been acting since she was seven, she has successfully made the transition between child actress to taking on more adult roles, and she couldn't be happier with the career she always aspired to. "I always wanted to do it. From the time I was six years old I wanted to be an actress," Vanessa said. "I never fell out of love with it." And now TV audiences are falling in love with her.
Switched at Birth is new on ABC Family tonight at 8 PM ET/PT.
For more from Brittany Frederick, visit my official website and follow me on Twitter (@tvbrittanyf).
(c)2013 Brittany Frederick. Appears at Starpulse with permission. All rights reserved. No reproduction permitted.