A Few Minutes With... Salli Richardson-Whitfield On 'Pastor Brown'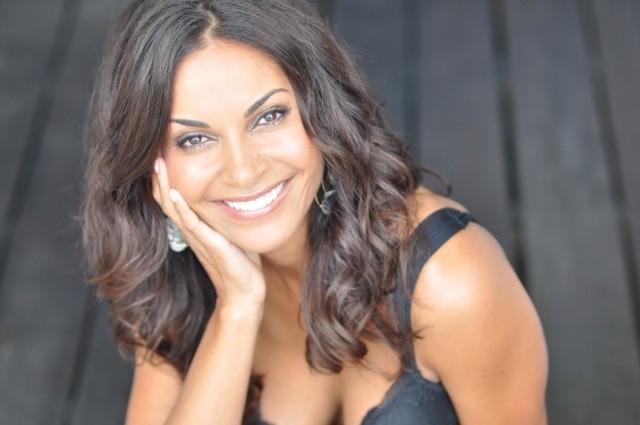 Salli Richardson-Whitfield recently celebrated the television premiere of Pastor Brown, the film in which she starred and co-produced in 2009, but which didn't make it to the small screen until February of this year. In the movie, the Eureka star plays Jessica Brown, an exotic dancer who fulfills her father's dying wish that she take over as head of his Baptist church. BFTV caught up with Salli recently to chat about the arrival of Pastor Brown and the rest of her career, which has ranged from voicing the character of Eliza Maza on Disney's animated series Gargoyles, to Eureka, to her guest role in the first season of HBO's The Newsroom.
"As an African-American actress in this business, you don't get that very many opportunities where you're the lead of the film, and the role had so much growth in it. I literally go from being a stripper to taking over my father's church and being a pastor. How many times do you get an opportunity to do a role like that?" she said. "This year I did a pilot for Lifetime and really established a relationship with them, and we showed them this film, and they loved it. So I'm really, really happy."
The Chicago native started her career in 1987, and talking about how it all began, she said, "I think it sort of grew on me. I realized it was the only thing I wanted to do. Being young and not afraid of anything, I just saved up some money and I flew to LA first, got an agent, found a place to live, and then went back home and drove my car out. I had saved up enough money to not have to work for a year, and luckily within that year I booked my first big movie."
"Back then it was just something I really loved to do. There weren't any great expectations on myself," she continued, "and then as the years have gone on I've started to believe that 'You're really good at this' and I really love it. I love the business that I've chosen."
"There were certain films where I went, 'Oh, my God, I'm doing a movie,'" Salli reflected. "I remember when I did do that first film [1987's Up Against The Wall]. There's a scene where I'm running out of this bar, and there are a lot of special effects [because] it's going to blow up. And I was going, 'This is what I came here to do.' I had the same kind of moment when I did I Am Legend. When you're in NYC and they shut down one of the bridges, this is a movie!"
One of her more recent credits was a guest appearance on The Newsroom, playing the character of Jane Barrow. "What's so funny is that at the time, I was the only black newscaster that that's been on," she laughed. "I got so much attention. I had so many people call me who saw it, because they love it and they were so excited about my work in it. It was great to meet Aaron [Sorkin] and to be on that set."
The actress added director to her resume a few years ago, helming episodes of Eureka in 2011 and 2012. "I never thought I wanted to direct," she confided. "I love the control of it. I love to dream of scenes." Back in front of the camera, she also completed shooting the film Playin' For Love, written and directed by Robert Townsend (The Parent 'Hood), which is set to debut in 2014.
Salli has established herself as an actress, producer, and now director, not to mention a devoted wife and mother of two children, who also finds time for charity work regarding sickle cell anemia. With plenty of hard work and a passion for her craft, she's certainly come a long way from the young woman who left Chicago.
With all that she's accomplished, what would Salli like to see in her future? "I just really want to do good work and work with some great people, people who challenge me," she explained. "It's almost like tennis. If you play with someone who's really hitting that ball hard, it makes you a better player, too. I just find when I work with wonderful people it brings even more out of me."
Pastor Brown is currently airing on Lifetime; check your local listings for specific time and channel. You can also keep up with Salli on Twitter (@sallirichardson).
(c)2013 Brittany Frederick. Appears at Starpulse with permission. All rights reserved. No reproduction permitted. Visit my official website and follow me on Twitter at @tvbrittanyf.