A Few Minutes With... Nina Lee on 'A Late Quartet'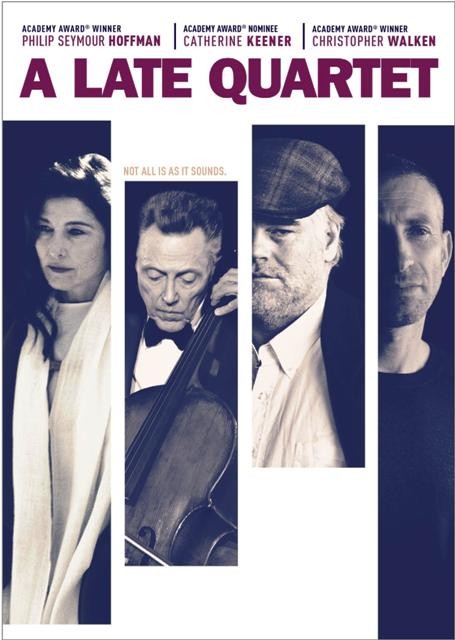 Fox's A Late Quartet is a star-studded story of veteran classical musicians, featuring Christopher Walken, Catherine Keener, Phillip Seymour Hoffman and Mark Ivanir. As the movie arrived on Blu-Ray and DVD, BFTV recently spoke with cellist Nina Lee, who appears in the film, about her experience with the production and her recommendations for exploring classical music.
"The film depicted four people who are connected through their love of music, specifically string quartets.  Every musician's relationship to their instrument and their reasons why they play is an entirely different and personal journey," explained Lee, whose own Brentano String Quartet was approached by writer-director Yaron Zilberman to contribute to the film after he attended one of their concerts. "I think Yaron did a fantastic job of allowing people a glimpse of a world that is foreign to most."
"I play myself in the film as a cellist that was a part of a piano trio that later joins "The Fugue" quartet after Peter [Walken's character] can no longer play due to Parkinson's disease," she continued. "My quartet in real life, the Brentano Quartet, does the recording of [Beethoven's] Op. 131 and supplies some of the quartet sound that is used throughout the movie.  Although we weren't a part of the day to day teaching that the actors were given, I did have a rehearsal with the actors to discuss the scene in which I join them."
Appearing in the movie was an eye-opening experience for the professional musician. "To be quite honest, I had no idea of what to expect when I agreed to become the cellist that replaces Peter," she said. "I was amazed at how much time and preparation the film production side needed in between takes, and the intense discipline the actors had to maintain the highly emotional thread that the scene required.

"The thing that struck me the most was the opportunity to be a part of an artistic process that was a completely new experience.  I have been such a huge fan of the actors in the movie for such a long time and to have been a part of their world for two days was fantastic!  To perform such emotional scenes take after take, without the luxury of naturally coming to that dramatic moment like a staged play does, boggled my mind."
A Late Quartet once again brings classical music to film audiences, and Lee discussed where curious audiences should start in their own exploration of the genre. "My strongest recommendation for people who want to explore more about classical music is to go to a live performance," she advised. "Witnessing the intricacies of the various 'conversations' and how a composer grapples with his/her ideas during the course of a work might be the best way to form connections between what you like and don't like." You can see her quartet's schedule of upcoming concerts at their official website.
With the film now on home video, Lee and the other members of the Brentano String Quartet are moving on to their next projects. "My quartet is currently celebrating its twentieth anniversary with a project called 'Fragments,' where we have commissioned six wonderful composers of our time to write a companion piece to a collection of unfinished fragments or ideas of string quartets from celebrated composers of the past - Bach, Schubert, Mozart, Shostakovich, Dufay and Haydn," she explained. "We are also about to premiere a new quartet by the electric guitarist/composer, Steve Mackey, that commemorates the fiftieth anniversary of the assassination of JFK. Future projects involve some exciting commissions of a new viola quintet by Felipe Lara and piano quintet by Vijay Iyer."
You can find out more about Nina Lee and the Brentano String Quartet by visiting their website. A Late Quartet is now available on Blu-Ray and DVD.
For more from Brittany Frederick, visit my official website and follow me on Twitter (@tvbrittanyf).
(c)2013 Brittany Frederick. Appears at Starpulse with permission. All rights reserved. No reproduction permitted.