A Few Minutes With... Madison Moellers on 'Shameless' and Women in Hollywood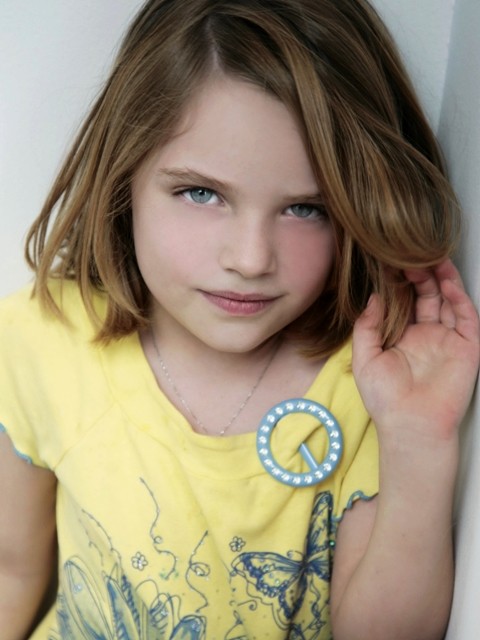 Madison Moellers arrived on Showtime's Shameless last month, playing the character of Molly Milkovich, the younger sibling of Mandy - and while she was a fresh face on the hit series, she also kept busy off-camera working to tell the stories of successful women in the entertainment industry. Madison recently took some time out of her schedule to chat with me about what it was like for her to work on Shameless and whether or not having her own web series has helped her see things from the other side of the red carpet.
"One of the things that I love about [Shameless] is that, on most sets, everything's very business. On the Shameless set, they're all like one big, goofy family," she said. "Everyone was just so nice to me on set. Emmy [Rossum] and William [H. Macy], they were just amazing." Although she only appeared in two episodes this season, she's hopeful that she will be back for more.
And she won't be off our television sets for very long. "I'm a recurring guest star on a new show coming out called Mistresses," she said. That series - based on the BBC drama program of the same name - begins on ABC May 27, and you can find more information about it here. Amusingly, Madison plays the role of Madi.
She's made guest appearances on a number of TV shows, ranging from The Young and the Restless to It's Always Sunny in Philadelphia, and given the opportunity, Madison's dream job would keep her on the small screen. "I really want my own sitcom," she confided, then added, "and I also really want my own talk show."
The idea doesn't sound so farfetched when you realize that she's created and run a successful web series that's had her interviewing some pretty big names. Called Influential Women of Hollywood, the project sees Madison speaking with various major ladies in the business. Her past guests have included Nancy Utley (the President of Fox Searchlight) and the late producer Laura Ziskin.
Has being the interviewer helped her when she's being interviewed? "I definitely think it helps," she said, "mainly because you know things that the interviewer wants to hear or the interviewee wants to hear."
Madison already has a few names she'd love to see appear on her web series. "I really want to get Shonda Rhimes. I almost had Kathleen Kennedy, the president of Lucasfilm," she continued, "and I really want to get Amy Tasker, Laura Ziskin's assistant."
It's a project that's very close to her heart; when asked what piece of work she'd recommend to anyone who sees her on Shameless, she points to the blog rather than a line on her filmography. "The percentage of executives, producers or directors in Hollywood that are women is only 15 percent," she said. The mission of her blog is to inspire young women - so hopefully that figure will change.
Even though she's still relatively young, it's clear that Madison has an interest in not just her own personal success in entertainment, but that of others, too. While she's a bright talent on-screen, perhaps the best role she's playing is herself - on her way to becoming an influential woman of Hollywood in her own right.
You can learn more about Madison by visiting her official website and also following her on Twitter (@maddiemoellers).
(c)2013 Brittany Frederick. Appears at Starpulse with permission. All rights reserved. No reproduction permitted. Visit my official website and follow me on Twitter at @tvbrittanyf.