A Few Minutes With... 'Last Man Standing' Star Christoph Sanders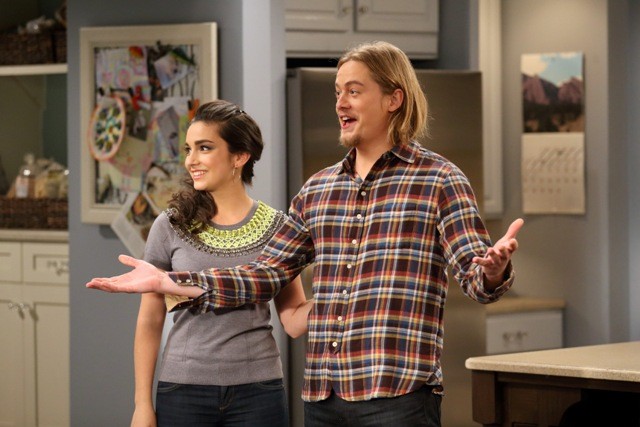 It's time for the season finale of ABC's Last Man Standing, and to mark the occasion, BFTV connected with series star Christoph Sanders, who spoke about the highlights of playing good-natured "Outdoor Man" employee Kyle Anderson and what it's been like for him to work on his first sitcom.
"We're setting up this finale to lead us into a third season that we're all holding our fingers for," Christoph said of tonight's episode, which is entitled "College Girl" and features a guest appearance by Jonathan Taylor Thomas as a former coworker of Kristin (Amanda Fuller) whose success prompts her to re-evaluate her own life. "We're all pretty positive that we can pull one off if the network or studio want it."
Kyle has become a considerable presence around the Baxter family, whether it's annoying Mike (Tim Allen) at their workplace, or dating Mike's middle daughter Mandy (Molly Ephraim), after having a relationship with eldest daughter Kristin in season one. "This season they gave me a lot of fun stuff to do," Christoph commented. "Once it was a bear costume. In another episode, I'm talking to Tim Allen's ghost. There was one a couple episodes ago where I'm wading through a fish pond, so I have to wear those big waders and I'm handling fake pond scum and fake fish. It was one of those moments where you're like 'Well, this is my job.'"
It's a great one for the actor, who's best known for appearing as Ned Banks in the last three seasons of CBS's Ghost Whisperer, and he has enjoyed doing something different. "I think the thing that's so much fun is it's having a new job and being able to work in a new medium," he said. "I'd never done a sitcom before, so for me there was a lot to learn. It was really helpful to have people who are as experienced as the rest of the cast. Tim and Hector [Elizondo] and Nancy [Travis], they've been doing this for a really long time. The thing I enjoy the most is being able to come to work and have a great group of people to not only work with, but learn from."
"I feel like this is probably the best stuff that I've done," continued the North Carolina-born Christoph, whose first credit was as a pizza delivery boy in Talladega Nights: The Ballad of Ricky Bobby in 2006. Asked what's on his career wish list, "I would love to work with Bill Murray," he said. "I think he's hilarious and I've always been a really big fan of his work. That chance to get to work with someone like Bill would be amazing."
Christoph's two favorite movies are the Murray-led The Life Aquatic with Steve Zissou and Three Amigos with Steve Martin, and when it comes to TV, he's found himself watching a lot of HBO. "I honestly have just been kind of glued to all their programming," he said. "Last month I watched all three seasons of Boardwalk Empire. My girlfriend and I watch Girls all the time. I love The Newsroom. My favorite show on TV is Game of Thrones."
As far as what makes him laugh, "My range of what I find funny is pretty broad. I lean more toward subtler, drier comedy," he explained, but added that Last Man Standing has also changed his mind slightly, too.
"There really hasn't been a classic sitcom on TV in years," he reflected. "The medium's changed a little bit. We've been able to dig a place for ourselves in an environment that really didn't have anything else like us."
Last Man Standing airs its season finale tonight at 8 PM ET/PT on ABC. You can also keep up with Christoph on Twitter (@stophsanders).
(c)2013 Brittany Frederick. Appears at Starpulse with permission. All rights reserved. No reproduction permitted. Visit my official website and follow me on Twitter at @tvbrittanyf.