A Few Minutes With... LaShawn and April Daniels on 'Tamar & Vince'
There's a lot more to life on a reality show than just what's on camera. Just ask LaShawn and April Daniels, who co-star in the WE TV series Tamar & Vince. They're seen on TV every Thursday alongside titular stars Tamar Braxton and Vince Herbert, while trying to manage their own growing careers in the music and fashion industries. Digital Airwaves recently sat down with LaShawn and April to discuss what it's really like to have your life televised and what the cameras might be missing.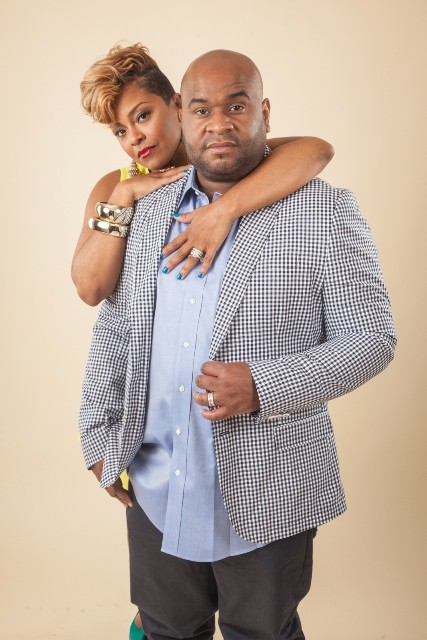 Their involvement with Tamar & Vince began "simply just being Tamar and Vince's friends," explained April. "This was definitely not something that we planned and sought out. We were asked to join them and so we did, and it's been exciting. It's truly different sharing your personal space with America. We have no regrets. We've been helping a lot of people, so it seems, from all the feedback we get."
Agreed LaShawn, "The beautiful part about it is, we are absolutely friends with Tamar and Vince. We spend a lot of time together. It's just more time together on camera."
What's it like having a camera crew following you around in your everyday life? "I think for my husband, it's pretty natural for him," said April. "For me, the very first episode I was kind of a little mouse in the corner because [it took] some getting used to. I never really was in the limelight like that. I never really imagined what it was like on the other side. You kind of adjust and you get used to it."
Yet for this charming, affable couple, their lives don't stop just because they're participating in their friends' reality show. The two have their own successful careers to manage, with plenty of projects keeping them busy. Two-time Grammy Award winning producer LaShawn is working with Tamar on her music career, and her single should be arriving "in a few short weeks."
"I'm transitioning over into the executive side of this whole thing," he explained. "Vince has been amazing, showing me the ropes. Him running Streamline Records, he comes from the production and the songwriter side, and he made that transition. I'm passionate about becoming an executive."
Meanwhile, the fashion-inclined April is "in the process of working on a women's shoe line that's looking to launch in fall of 2013. I also have a couple of beauty things I'm working on [and] we collectively have something that we're going to have for couples," she said.
"My women's shoe line has been a long time in the making for me," she added. "I'm looking forward to getting it out there and just watching the success that comes from it."
Their proudest accomplishment, however, is personal: it's their decade-long marriage and what viewers of Tamar & Vince have taken from seeing it. "I think the rewarding part for us is just having couples being able to relate to Tamar and Vince, myself and April," said LaShawn. "We've been married for ten years. When you're married, everybody knows there will be ups and downs, but it is a beautiful journey. People respond to all of us saying 'Hey, my marriage is doable because you guys are doing it.'"
"[The show] caught a more challenging side of our marriage," agreed April. "Initially it was 'Oh, gosh, the world's going to see us in that light?' but afterwards we were glad. We all go through it."
"It gives other married people an outlet," added LaShawn. "All of us are helping each other and America is watching us go through this and we're helping a lot of people."
What shows do they enjoy? "I watch the total opposite of what people think I watch," said LaShawn, who keeps the TV tuned to the History and Discovery Channels, including Top Gear, Pawn Stars, How It's Made and American Pickers, and is also a fan of HBO's Boardwalk Empire. April watches less TV than her husband, but says that one show keeps her attention: ABC's Scandal.
Their professional success and now reality television stardom haven't affected this power couple. Fans who enjoy watching Tamar & Vince can know that the couple they enjoy on television is one hundred percent genuine. Said LaShawn, "A lot of reality shows now are very scripted but what we do is absolutely what we do."
You can keep up with both LaShawn and April on Twitter (@bigshiz and @IAmAprilDaniels respectively). Tamar & Vince is new tonight on WE at 9 PM ET/PT.
For more from Brittany Frederick, visit Digital Airwaves and follow me on Twitter (@tvbrittanyf).

(c)2012 Brittany Frederick/Digital Airwaves. Appears at Starpulse with permission. All rights reserved. No reproduction permitted.