A Few Minutes With... Kim Shaw and Arielle Kebbel on Their New Web Series 'Audrey'
If you've been on YouTube recently, you've likely heard of WIGS, a YouTube channel devoted to female-oriented original programming featuring some fantastic TV talent. The latest WIGS project to make its debut is Audrey, starring Kim Shaw (She's Out of My League) and Arielle Kebbel (The Vampire Diaries).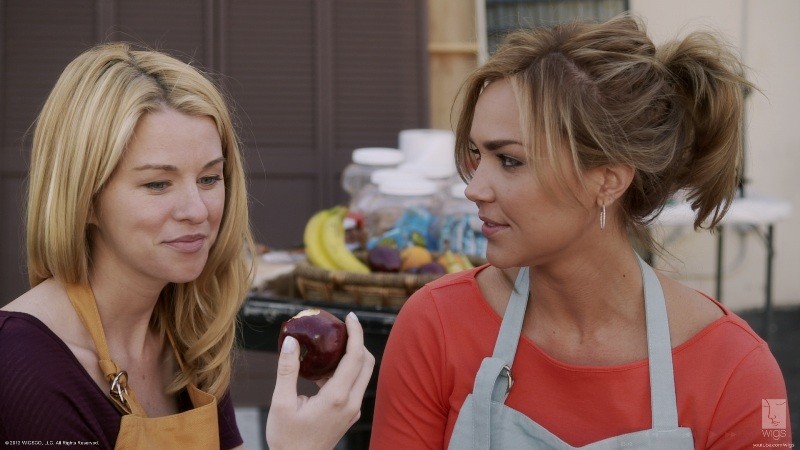 It's "the funny story of a food-obsessed woman who tries to rise up the ranks in the culinary world, but her appetite for both love and haute cuisine complicates her journey," and it begins today, with new episodes posted every Monday, Wednesday and Friday through next Friday, November 9.
"I just loved the idea of having this strong female lead who didn't need a man necessarily to feel fulfilled in life. I love that this really drove that home," said Kim (pictured above left with Arielle). "To be able to work with the people who are attached to it was such a huge honor, [with] all of these short stories that were about incredible women. All of the women aren't necessarily the happiest or most straightforward in the bunch, but it's so truthful and it captured everybody so well and had so many stars attached and so many amazing directors involved."
Agreed Arielle, "I was in awe to be included in this group of powerful women. I thought it was funny and sexy and relatable. [Audrey writer] Leah Rachel is doing incredible things already. The women even in this web series - Virginia Madsen, she's so kind and I love her, and Jena Malone I've always been a fan of, America Ferrera - I am fans of theirs and I admire their work and I respect them as actors and as people, so to be a part of that group was phenomenal to me. If you're an artist and you put yourself out there, I enjoy being a fan of that."
What were their favorite parts of making Audrey? "I was really stoked to work with all the ladies involved but I was really excited to work with Gary Cole," gushed Kim. "He's just one of those iconic classic actors. I probably wore out my VHS copy of Office Space. He's really wonderful and such a generous, talented man."
For Arielle, the perk was getting "To be around so much gorgeous food and work with people I enjoyed working with every day," she said. "I think I would have to say if anything, I've known that I need to learn how to cook for awhile. I was like, 'Well, I guess it's time to start cooking.'"
Of course, one can't discuss a web series about food without asking for culinary recommendations. "I've just gotten into Mongolian barbecue and I'm obsessed with it. There's this wonderful place in Silver Lake called Gobi [Mongolian BBQ House]," said Kim, who added that "I'm a huge fan of Asian cooking in general. I love shabu shabu and I love hibachi. It's kind of like an experience as opposed to just having something in front of you and you eating it."
Both actresses have been involved with other projects that have perhaps flown more under the radar than they should. "I'm really proud of this show I did called I Just Want My Pants Back," said Kim, who played Tina on the short-lived MTV comedy. "I was very proud of my work on the show and such a huge fan of everybody involved."
Arielle co-starred as Cassidy in the phenomenal indie film Brooklyn Brothers Beat the Best, which saw limited release just recently. "It was amazing. I got made fun of 24/7 because I was the only girl on set," she said with a laugh. "[Star/writer/director] Ryan O'Nan is incredible. I met with him, he offered me the job based off of my character in Vampire Diaries. I like telling everyone he's a closet Vampire Diaries fan. He thought of me for Cassidy because she's a tough cookie on the outside but she's incredibly vulnerable on the inside.
"Meeting Ryan alone and knowing that he was writing, producing, directing - this person in front of me was so inspiring. I had to work with him just to be around him. We really were like a family. Anything that I wanted to bring to the table, he let me run with. I've never really had the freedom to do that. I'm so proud of the whole thing." (For more on Brooklyn Brothers, you can check out my interview with Ryan O'Nan and co-star Michael Weston.)
Now Kim and Arielle are hoping that people discover Audrey, even though it is online as opposed to being on your TV or in your local movie theater. "Audrey is such a fun, quirky story," said Kim. "I really want everyone to watch and love the show because it had so much heart. There's a character for every type of woman to connect to."
You can check out Audrey by visiting WIGS on YouTube, where you can also view other web series and short films starring the likes of Jennifer Garner, Michael C. Hall, Julia Stiles, Alfred Molina, Allison Janney, Jennifer Beals and more.
For more from Brittany Frederick, visit Digital Airwaves and follow me on Twitter (@tvbrittanyf).
(c)2012 Brittany Frederick/Digital Airwaves. Appears at Starpulse with permission. All rights reserved. No reproduction permitted.