A Few Minutes With... Ginger Gonzaga on FX's 'Legit'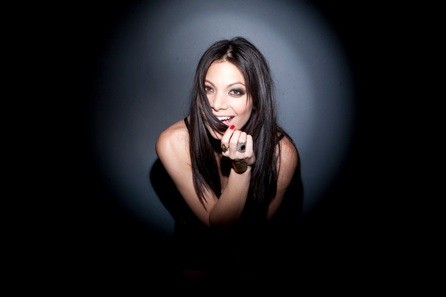 FX's Legit is about to get a lot more interesting. Tonight marks the debut of Ginger Gonzaga as Jim's (Jim Jefferies) frustrated girlfriend - and BFTV recently caught up with Ginger to get the scoop on this hilarious actress and writer.
"It's just like a bad relationship from the beginning," quipped Ginger, who appears in five episodes of Legit's first season, starting with her introduction in tonight's "Anger." The title of the episode should tell you everything you need to know about her character's relationship with Jim.
Before she was fighting with foul-mouthed Australian comics, the actress had her lightbulb moment in a room full of college dudes. "When I got into college, I didn't know for sure that I was funny, and then I lived with all guys. All of my male roommates wold steal all the jokes I had earlier in the day and use them to hit on girls," she explained with a laugh.
Ginger got her professional start working with two institutions of comedy, The Groundlings and Second City. "My sophomore year I went to a Groundlings show. I auditioned for The Groundlings and I got in. I loved improv and that was kind of the first step," she said.
Something else she loved was the FOX animated comedy Family Guy - which made it particularly sweet when she was cast as Gina in Seth MacFarlane's box-office smash Ted. "I'm mostly in the unrated version," she said. Making it more amusing was the fact that Ginger had actually sat in on several Family Guy table reads beforehand.
"When I first moved here [to Los Angeles], I met one of [Family Guy's] writers, and she used to let me come to the table reads," she added. "But then when I got cast in the movie, I was probably one of the only actors that didn't actually know Seth before!" Now, they've become friends, and Ginger voiced the character of Cindy in two Family Guy episodes, season eleven's "Yug Ylimaf" and the upcoming "Chris Cross," which airs on February 17.
MacFarlane isn't the only person who makes Ginger laugh. "I love Sacha Baron Cohen, and I love Ricky Gervais," she said. She also enjoys the wit of her on-screen boyfriend: "I love Jim Jefferies. Everything that Jim says, I share his opinion on almost everything."
You can see a selection of Ginger's comedy work on Funny or Die, and she also co-hosted Hulu's The Morning After for a year and a half, selections from which you can check out here. On The Morning After, Ginger was known for the variety of characters she played, and that diversity is something she aspires to.
"I just want to be able to play every type of thing. I want to check every type of person that I could be off of my list. Not always be playing the same thing," added Ginger, who is also a writer and has collaborated with the likes of David Koechner (Anchorman) and Owen Benjamin (Sullivan and Son). Who else would she like to work with next? "I'd love to work with Tim Burton, and Paul Thomas Anderson, and Sacha Baron Cohen," she added.
Although she makes us laugh on-screen, Ginger's personal taste in television runs toward thrillers like Showtime's Homeland and AMC's Breaking Bad. One thing hasn't changed, though: "I still love Family Guy," she added. But now she's not just laughing at someone else's jokes - she's bringing more than a few laughs of her own.
Ginger's first episode of Legit airs tonight at 10:30 PM ET/PT on FX. You can also follow her on Twitter (@GingerTheJester) and visit her official website (GingerGonzaga.com).
For more from Brittany Frederick, visit my official website and follow me on Twitter (@tvbrittanyf).
(c)2013 Brittany Frederick. Appears at Starpulse with permission. All rights reserved. No reproduction permitted.