A Few Minutes With... Dave Rosin of Hedley
Canada has given the American market several listenable bands over the years, including but not limited to the likes of Simple Plan and Marianas Trench. If you haven't already heard of them, add Hedley to that list. The rockers from the north are celebrating the success of their most recent single, "Kiss You Inside Out," off their fourth album Storms. Guitarist Dave Rosin (pictured far left) recently chatted with me about the new single and other interesting things which are Canadian.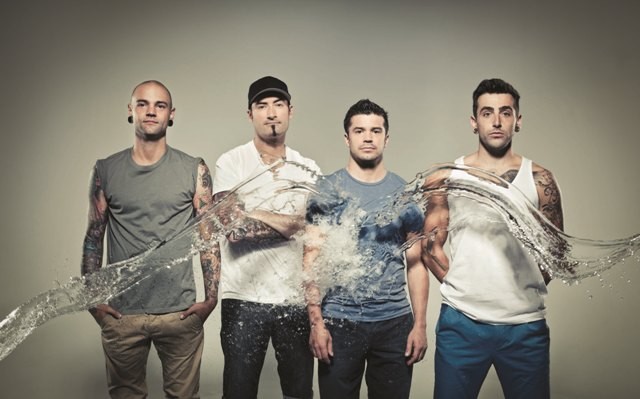 "Kiss You Inside Out" is "summing up that feeling when you see someone for the first time and nothing is more important. That's essentially what the song is," explained Dave, who quipped that the secret to the song's popularity - it's closing in on two million views on YouTube - may be "twelve monkeys on a typewriter. I don't know. You never know. I'm just happy it's striking a chord with some people.
"I don't look at charts and stats and things. I know graphs are fun to look at," he continued. "The cool thing about the song being out there, it means I can come play your town. We want to come and play for you live. We've gotten to meet a lot of great people, fans from all over North America and overseas."
Like many bands, Hedley came together from the pieces of another group. "Eight years ago I was playing in a band with [bassist] Tom [Mac] and [drummer] Chris [Crippin], and we didn't have a singer," he said. "I'd seen Jake [Hoggard] open for a friend of mine's band. I had that feeling like 'I'd really like to be in a band with that guy.'"
Eight years later, Hedley has 15 Juno nominations (the Canadian equivalent of the Grammys), and was named one of the Top 100 touring acts in the world by Pollstar in 2010. "Not a day goes by where I don't realize how lucky we are," Dave said.
How do they come up with their songs, if it's not monkeys on a typewriter? "We need to have a dark room full of very nice Egyptian textiles, 376 candles and some kind of sushi," he quipped with a laugh, before explaining that the band's inspiration "comes from everywhere and anytime. We've had the good fortune to write with some other amazing artists [such as Grammy winner Babyface on ​Storms​]. It's starting with something that's honest.
"We never stay stagnant. We're always trying to hone our sound," he added. "I hope fans have learned to appreciate that and follow along with our ADD."
Hedley continues to develop its fan base all over the world, adding to the long list of imports from north of the border. As Dave pointed out, Canada has given us plenty of things and people, including but not limited to the Olympic sport of curling, the ​SCTV ​ characters Bob and Doug MacKenzie, current pop sensation Justin Bieber, and another great band, Barenaked Ladies.
"Barenaked Ladies was my first concert," he said. And if there ever was a band carrying on the fun tunes and irreverent spirit of BNL, now we have Hedley.
Keep up with Dave on Twitter (@DaveRosin) and visit the band on their official website (hedleyonline.com). You can check out the video for "Kiss You Inside Out" at the bottom of this article.
For more from Brittany Frederick, visit Digital Airwaves and follow me on Twitter (@tvbrittanyf).
(c)2012 Brittany Frederick/Digital Airwaves. Appears at Starpulse with permission. All rights reserved. No reproduction permitted.