A Few Minutes With... Britt Lower and Kat Palardy About 'Window Dressing'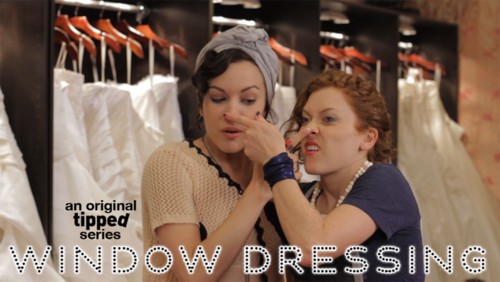 There's a stylish web series now on the virtual block. Window Dressing stars Unforgettable alum Britt Lower and Kat Palardy as a mismatched pair who find themselves trying to design for all sorts of different shops and dealing with all kinds of crazy types. BFTV recently chatted with Britt and Kat about the mayhem and magic of Window Dressing.
"We were thinking, how fun would it be to have every episode be in a different store? You could have a third character in every episode that is a really fun store owner or a crazy person," said Kat, explaining the concept for the series. "We had other ideas too. I think we were going to be two dueling exercise instructors. That was one that we didn't do."
The six-episode web show is a friendly affair for the two actresses. It launched as the first series for Tipped.tv, a company started up by one of their friends. Kat's sister Bridget serves as one of the show's directors, and Dan Foster, who did long-form improv work with both Britt and Kat when all three were in college at Northwestern, is Window Dressing's co-writer.
"Dan and Kat and I haven't been together in the same zip code since college," said Britt, who played the character of Tanya Sitkowsky in the first season of Unforgettable and also appeared on Law & Order: SVU. "Just being able to be around each other and make each other laugh has just been a dream."
The finished product is the result of some improvisation - but not a total disregard for the script. "We had a big learning curve as far as improv on set," explained Kat. "It's a big thing now for actors to improvise. Right out of the gate we're like 'We've got scripts but let's improvise.' [But] it's way better to stick to the script for the first couple takes and then improvise off of that. It's a lot easier to edit, and it keeps the writers happy," she quipped.
What was their favorite episode to produce? "I think the mafia episode, episode three," she continued. "Once we got the director involved, she had this whole idea to have a montage that was like a tribute to the Beastie Boys. It would heighten the fact that we're ridiculous and not very good at being undercover cops." You can check that montage out for yourself at the end of this article.
The duo also want to recognize the amazing production team that gives Window Dressing its style, including Bridget's fellow director Danielle Krudy and costume designer Kate Mallor. The two directors were "heavily involved in the creative process," explained Kat, while Britt added that "Fashion and the look of the show is really important [and] we have a really amazing costume designer." The Los Angeles-based comedy collective Dude Take Dude helped produce the series with Tipped.tv and Mayank Bhatter.
All those fabulous folks will definitely be reuniting for more artistic antics, too. "You're definitely going to see more episodes," revealed Kat. "We're not sure where yet."
You can view all the currently available episodes of the show on Tipped's YouTube playlist for the series. For more info on Window Dressing, you can keep up with Britt and Kat on Twitter (@BrittLower and @KatPalardyParty) and visit the show's Facebook page.
You can check out an episode of Window Dressing below. Enjoy!
For more from Brittany Frederick, visit my official website and follow me on Twitter (@tvbrittanyf).
(c)2013 Brittany Frederick. Appears at Starpulse with permission. All rights reserved. No reproduction permitted.