A Few Minutes With... Ben Hoffman On 'The Ben Show With Ben Hoffman'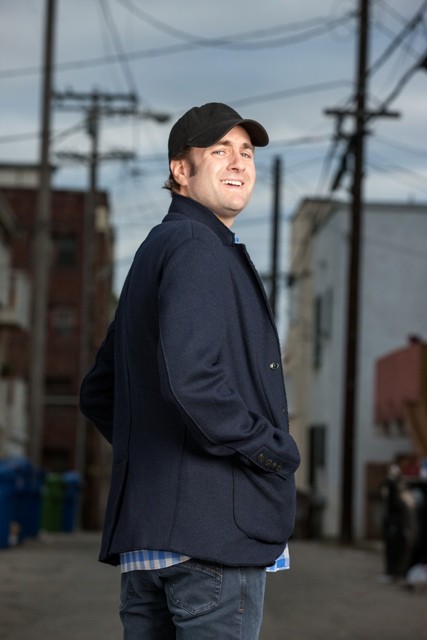 "I've never seen a show with this much ridiculous stuff mixed with this much realness," said comedian Ben Hoffman, speaking to BFTV Wednesday about his new Comedy Central series, appropriately titled The Ben Show with Ben Hoffman. "What you're seeing on the show is my real therapist, real dad, a girl that I dated. It's the most real show you've ever seen mixed with the most absurd show you've ever seen."
That's what distinguishes The Ben Show from other sketch-comedy programs: in between its hilarious segments, such as a rapper bringing "musical flair" to obituaries, audiences get a glimpse of Ben's actual life, too. In the first eight episodes, he forms a band, debates buying a firearm, revisits his home state of Kentucky, and seeks advice from familiar faces and strangers alike. As he explained it, "The goal of the show was, how can we make the show where the stuff between the sketches is as funny as the sketches."
The approach also means that audiences get to know him and not just his material or stage persona. It's also the culmination of years of work for Ben, the star and executive producer who worked his way up from winning the lead in a commercial, to guest-starring on Arrested Development and New Girl, to co-writing and co-starring in Comedy Central's own Sports Show with Norm Macdonald. But now that he thinks about it, this may have been where he was headed all along.
"I have a different approach than a lot of other comedians. I'd rather make TV," he explained, having spent his childhood being constantly grounded for staying up late to watch The Late Show with David Letterman. "I came out here to do television. That's what I grew up watching and grew up loving and wanted to do. That's what I enjoy doing."
Now that he's got his own show - with his name in the title even - what's been going through his head? "How can I screw this up or how can this go wrong? Or did someone just play a prank on me? One of those scenarios," he quipped. "My first thought literally was, 'Do they legally have to air this? Is this even going to air?' Los Angeles is a town of 'nos.' You're so used to hearing 'no' that when you hear 'yes' your subconscious turns it into a 'no' for you."
The Ben Show is indeed going to air, and Ben couldn't be happier about his experience working with the network that put it on their schedule. "I landed at Comedy Central at the exact moment when they're trying to do new types of shows," he said, calling them "a network that's really supportive of what I'm doing. My bosses like me and I like them, and I'm doing work that I like and they like, and we're all on the same page. Things are going so well with Comedy Central and I'm so happy with the way they've handled the show. I know I'm in rarefied air there."
He's also receiving praise from other comedians. "I'm getting a lot of positive feedback," he added. "Jimmy Kimmel wrote me an email telling me how funny it is. Norm, to me, is the funniest person of all time, and he loves the show."
While Ben would love to do a second season of The Ben Show if he's given the opportunity, he's not necessarily losing sleep over potential ratings, either. "This is where 15 years of therapy comes in," he joked, before reflecting, "I already consider the show a success because I've never had something to call my own that I liked. I'm my toughest critic and I think the show is funny, and I'm really happy with it."
"I've kind of fulfilled all my goals in a way," he said. "I never thought I'd have my face on a billboard on Sunset Boulevard." That kid who spent his nights watching Letterman with his headphones on would no doubt be proud.
The Ben Show with Ben Hoffman premieres tonight at 10 PM ET/PT on Comedy Central. You can keep up with Ben on Twitter (@thebenshow) and Facebook (facebook.com/thebenshow).  You can also preview a sketch from The Ben Show below (warning: uncensored content).
(c)2013 Brittany Frederick. Appears at Starpulse with permission. All rights reserved. No reproduction permitted. Visit my official website and follow me on Twitter at @tvbrittanyf.