A Few Minutes With... Adam Saunders on 'Family Weekend'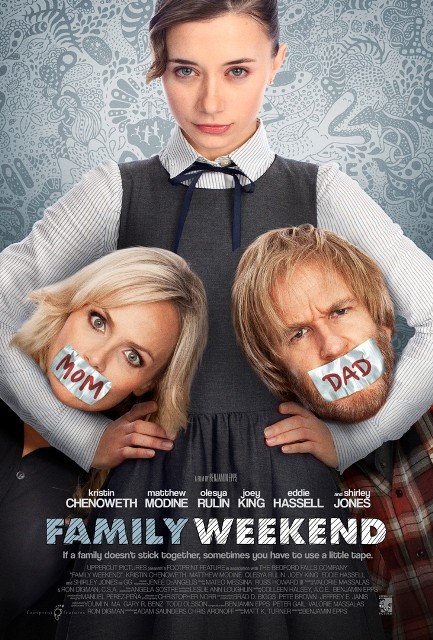 The hilarious new comedy Family Weekend arrives in select theaters today, and yesterday BFTV dialed up the film's producer Adam Saunders to get the scoop on the Kristin Chenoweth and Matthew Modine-led flick about a particularly unconventional attempt at family bonding.
Family Weekend stars Chenoweth and Modine as Samantha Smith-Dungy and Duncan Dungy, who miss their daughter Emily's (Olesya Rulin, High School Musical) big jump-roping competition, which prompts Emily to mastermind a plan in which she and her siblings take their parents hostage in hopes of reuniting the family. It's a big credit for Footprint Features, the production company founded by Adam, Peter Gail, and Benjamin Epps, who also directed the movie. "We came across, through a mutual friend, this script," explained Adam. "We thought the characters were really rich and the dialogue was great and it was something we could produce because it was all in one house."
Not only did they back the project, but Adam and his team worked with writer Matt K. Turner to develop the film into its final product. "We went through a lot of drafts," continued Adam, who also appears in Family Weekend as Rick, who Samantha is suspected of having an affair with - and that's an intentional bit of casting. "When we set out to do it, we wanted to produce a project that Ben could direct and I could act in," he added. "In the original version of the script, the character of Rick never appears. We thought this guy should be in the movie regardless [of who played him], and actually it was really great."
He called the experience of making the film "amazing. [Oscar-winning director-producer-writer] Edward Zwick, his production company produced it with us, and he was definitely lending a helping hand in this whole process. All these amazing people who basically took a chance on first-time filmmakers, it was at times surreal and we felt this obligation to do right by them. This has been our sole focus for the past three years."