A Few Minutes With... Actor/Director Derek Magyar
These days, it seems every actor wants to expand their career - but rare are the ones who are so passionate about the art of entertainment that it feels like the​y'd be wasted if they didn't. Derek Magyar is one of those latter folks. Since I ​spoke with him in December​ about his directorial debut, he's continued both in front of and behind the camera, and updated me on everything that he's been up to.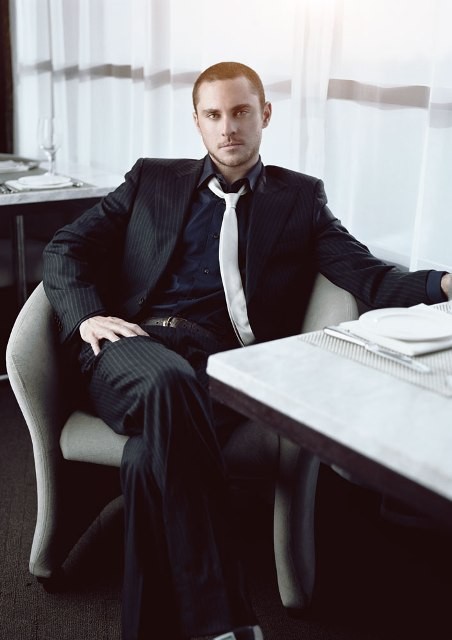 "Flying Lessons got pushed in terms of its release," he said of his first directorial effort, but it's not bad news. "The film was pushed for good reason because they're planning on doing a much bigger opening. It's looking like November, first week of December."
In the meantime, Derek has kept busy. Later on this year, you'll see him in front of the camera in the horror film ​No One Lives​, directed by Ryuhei Kitamura. He co-stars as Flynn alongside the likes of Luke Evens, Adelaide Clemens, and Lee Tergesen. There's also ​Phantom​, which stars Ed Harris and David Duchovny.  He sees no need to limit or define his career, because he genuinely enjoys all the professional roles he's had the chance to inhabit.
"I love the art of filmmaking very much in all aspects," he explained. "I'd say I'm definitely an actor first and foremost, but I love filmmaking. I love directing; it felt right to me when I did Flying Lessons. It's something I will do again. Really, you can always be working and developing. That's something that's kind of ever constant."
Stepping behind the camera has also given him a new perspective on being in front of it. "If I am looking at my work as an actor, after having directed, I'm able to look at things in a much more technical way. There's no question about that," he said.
The role change has even somewhat helped him with a common issue among actors - the aversion to watching one's own work. "Since directing it's become potentially a little easier," he added, "because I'm okay with being a little critical of myself, in a kind of filmwise way."
While he's working on a variety of future projects on both sides of the camera, there's another role Derek wants to add to his resume. "Producing is something I'm interested in," he told me, "in terms of getting films made and helping filmmakers to get their voices heard. I'm a producer from the creative side of things."
To that end, he and his team are launching The Audition Loft, which is all about helping others. "We're really excited about it," he said. "The Audition Loft is kind of geared toward helping actors find a foundation, do whatever they need to do. It's basically going to be an opportunity for actors to put themselves on tape for projects, whether they're union [or] non-union, [or] whether they're trying to create work to generate a demo reel."
What makes Derek the perfect person for such a venture is that he has the personal experience to truly and honestly guide others, whether it's just as actors or those who are looking to move into other aspects of the business.
For those who want to strike out behind the camera, "My advice would be to follow your heart but to make sure that you are well prepared and well versed, depending on how much you work as an actor and what your knowledge is of filmmaking in terms of the medium, and know what you're getting into," he said. "How much more it is than just directing actors. It's a whole new world."
Yet that doesn't mean he's discouraging others from taking that leap; in fact, it's quite the opposite. "I think everybody should try something once if their heart tells them to," he said, appreciating how the experience of being a director has helped him to grow as an artist and as an individual, and speaking with an honest desire to continue that development. "I'm looking forward to directing my second feature and taking everything I learned from directing Flying Lessons and after - which I feel has been epic - and applying it toward the next project, which I feel has been epic, and seeing where that takes me."
The future includes leaving film for the stage, even if only for a little while. "I'm also really looking forward to directing the full-length [stage] version of Romeo and Juliet this coming year. I'd love to get back to theater very much. But we'll see. Time will tell," he said. "I just love working and I love the arts. It's all about learning from the experience and growing." That's something that will always be constant, no matter what else changes.
That's what makes Derek Magyar an artist to watch, now and in the future: he's motivated by a true love of filmmaking, no matter what part he has in the process - and whatever his job description, he's striving to learn, to become better, and then pass that knowledge on to others. He's more than just an actor; he's a great representative of all that's wonderful about making movies.
You can follow Derek Magyar on Twitter (​@DerekMagyar​). For more from Brittany Frederick, visit my Starpulse writer page and follow me on Twitter (@tvbrittanyf).  
(c)2012 Brittany Frederick/Digital Airwaves. Appears at Starpulse with permission. All rights reserved. No reproduction permitted.