A Few Minutes With... '90210' Star Michael Steger
The CW's 90210 has successfully updated the teen-to-twentysomething soap for a new generation. One of the reasons why is the presence of Michael Steger, who plays Navid Shirazi. Michael recently discussed what drew him to 90210 and answered the question that young adult drama fans often wonder about: what it's like to be in your thirties and playing someone who's much younger.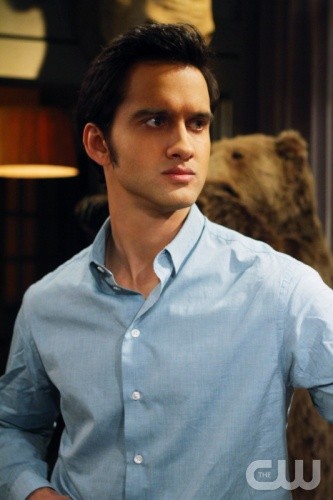 "The highlight for me is hard to explain," he said, talking about how much he enjoys his gig on the series. "I get to work with people that are cool and that love being there, from the crew to the writers to the actors. Everybody's just collaborating. I really can't believe this is my job."
Surprisingly, he almost missed out on the role, because he was in India for another project when the opportunity arose. "I was doing a Disney movie [The Cheetah Girls: One World], and I was going to stay in India for a couple more weeks and I would've missed the audition for it," he explained, adding that the part didn't come easy, either. "It took five different auditions. I thought it'd be interesting; I thought 'How are they going to do this?'"
They've done it with a lot of hard work. In 90210, there are currently seven regular characters and another thirteen with recurring status. That's a large number of folks to keep track of, and Michael confided that keeping up is a lot even for the actors. "It's really hard to follow all the storylines," he said. "If you ask me about someone else's storylines, I could probably give you a hint, but it's so much."
One of the things that audiences often comment on when it comes to young adult dramas like the CW series is that the actors are often much older than the characters they're playing. That's true for Michael, who's settled into his life while Navid is still trying to figure his out. The age discrepancy doesn't bother Michael, however. "You never play age, you play character," he explained. "It's all heightened reality."
90210 is the biggest role to date for the Los Angeles native, who got into acting "probably in the second grade. My mom pushed me to take drama class," he said. "My best buddy was driving me crazy trying to audition for this play. He was really trying to get me to audition with him. I finally auditioned for it and we booked the play together." Clearly, his mom and his best friend knew what they were doing.
Like many actors, Michael has a varied taste when it comes to the shows and movies he watches. Asked what's in his DVD collection, Michael said "You'd see The Crow, my all-time favorite movie since I was a kid. I used to be into comic books and that was like my favorite comic. The whole complete series of Six Feet Under, [my] all-time favorite show. Also Rome, Breaking Bad, Monty Python and the Holy Grail."
He's similarly open-minded when it comes to his career. While he's in no hurry to leave Beverly Hills behind, when asked about future aspirations, he said that "There's so many. What cable's doing right now is especially piquing my interest. For an actor, it's so open. It pretty much comes down to a really good script and the opportunity." As charismatic and talented as he is, Michael's time spent in California's most popular zip code should offer him plenty more opportunities to come.
You can keep up with Michael on Twitter (@MichaelStegerJr). 90210 continues season five tonight on The CW.
For more from Brittany Frederick, visit Digital Airwaves and follow me on Twitter (@tvbrittanyf).
(c)2012 Brittany Frederick/Digital Airwaves. Appears at Starpulse with permission. All rights reserved. No reproduction permitted.