A Curvy Scarlett Johansson Shows Major Cleavage At The Venice Film Festival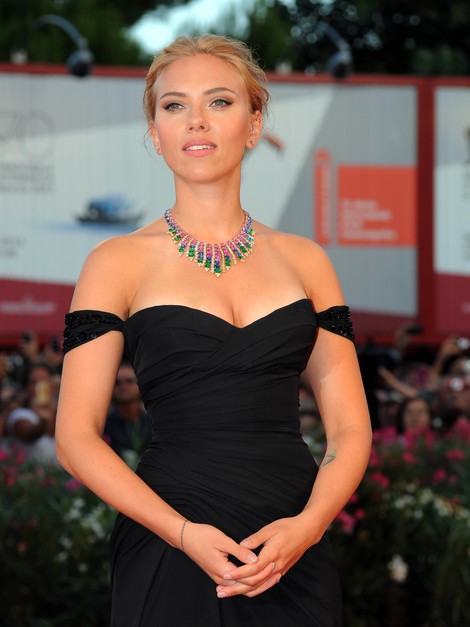 Scarlett Johansson looked dazzling at the "Under The Skin" premiere at the Venice Film Festival on Tuesday. The actress walked the red carpet in a black, floor-length gown with sequined, off-the-shoulder cuffed sleeves.
A multi-colored gem necklace brought attention to her neckline and cleavage. She swept her hair back into a loose bun.
So how does she make her body look so good? She recently told Elle magazine, "I go to the gym twice a week, but if I'm preparing for a role, I sometimes go every day. I'm not a fan of cardio, I like lifting weights and doing exercises to work my core muscles."
The actress is also a big fan of make-up. "I've always loved eye-shadow. When I was younger, my mother would always get dolled up before she went out, I've inherited the same habit. In the evening, I wear bright red lipstick and accentuate my eyes. I like to have an expressive gaze, with lots of layers of mascara."
In her new film, Johansson plays a member of an alien race with a mission to abduct hitchhikers and take them back to their home world, where human meat is considered a delicacy.
Check out more photos of Scarlett...