A Conversation With Sameer Bhattacharya Of Flyleaf

Sure, sure. I have heard it all already. Everyone I know that is a fan of
Flyleaf
is upset that the band made the decision to take the road less traveled for them, one with less screams and a tad less aggression on their new album,
Memento Mori
. Yeah, their self titled album was teeming with a certain kind of rawness, a certain power all its own. This time out they took the path of melody and concentrated more of their hooks than anything else and guess what, it worked perfectly. Memento Mori is a great next step for the band, a natural progression if you will. So those that are miffed, rest assured the band has not changed - if anything they have gotten much better.
Believe it or not, Memento Mori finds the band at their best yet. The album really focuses on the bands ability to craft a brilliant hook, and line each song with a definable groove, giving the record on the whole a great ebb and flow. The album also showcases the abilities of front woman Lacey Mosley, who has not lost a step at all. Her abilities parallel those of
Evanescence
's Amy Lee, but don't tell her you heard that from me - she isn't a fan of hearing it.
I had the chance to talk to Sameer while the band was preparing to hit the pavement in the New Year with
Breaking Benjamin
and
Three Days Grace
. He talked to me about everything from recording the new record, to what happened along the way during the writing process to make Memento Mori the way it is.
Brian Campbell: I want to start by asking about your upcoming tour with Three Days Grace and Breaking Benjamin. Do you guys do anything special to prepare for big tours like this one?
Sameer Bhattacharya:
No, not really. We just rehearse, that's really the most important thing really. We need to get these new songs ready for the tour, especially after our little break of a few weeks. Other than that we don't do anything to get ready. We also need to make sure we're in shape for the show.
Speaking of the new material, how did you guys settle on the title of Memento Mori?
When we were writing this record, we had this collection of songs and the reoccurring theme was take advantage of right now, take advantage of today because that is all you have. Memento Mori encompasses the whole idea of your mortality and everything you know here is going to go away so you should take advantage of it now. You should focus on things that are important to you, things like people and love and hope.
Walk me through the recording process of the record.
We've had these songs, some of them since before we made the first record. It was really great working with Mark Lewis and the entire pre-production staff. They were able to help us find continuity throughout the songs. And going into the studio, the way that Howard Benson works with his team is amazing because they are all artists. It's really interesting to see how they all work. They really try to get the message across in the songs, and that's the important thing, making sure the message is clear. Not that I have anything to really compare it to because we haven't recorded a full record with anyone else but Howard.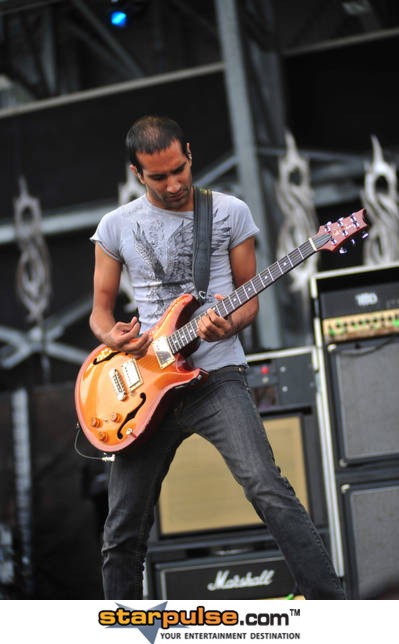 Sameer Bhattacharya of Flyleaf © Daniel Locke / PR Photos
Obviously you brought back Benson to produce this record. Why not go out and work with someone else? Just because you felt comfortable with him?
Well, it was partly because the label wanted us to go back and work with him but we wanted to work with him again because we never had a bad experience with him. WE had a lot of freedom to do what we wanted with this record, thankfully. I think this time we came out with an amazing record that has a clear and powerful message to it. I'm very pleased with what Howard has done with us on this record.
You guys scaled back a lot of Lacey's screaming on Memento Mori. Now, was that something you guys wanted to do or was that something that just happened during the writing process?
It wasn't our intention for that to happen; it was just something that happened during the writing process. We didn't go into the process with any kind of thought. We wanted to go into this record without any preconceived thought or anything like that. We wanted to songs to speak for themselves and we didn't want to try to fit them into anything. And I think that's what really came out, and Lacey not screaming as much was just something that happened.
There is so much melody infused on this record. The hooks are great. Is that something that came out of scaling back some of that aggression? Obviously that came out during the writing process right?
We learned a lot as songwriters. When we recorded the first record we hadn't toured that much if at all, outside of Texas at least. After that it had almost been five years since the first record before Memento Mori, and since then we have learned so much about life and about writing from bands we had toured with like
Korn
,
Deftones
,
Stone Sour
and bands who have been in it for a long time. I think you can hear the maturity on this record, and you can hear that we have grown from the first record to this record. And that's just because we grew up really.
Do you feel that Memento Mori is a natural progression from your last record?
Yeah, definitely. I don't think that any of it was forced and that was really important for us to not have any of it sound forced. When we were in the studio we would change things on the fly when it called for it. Sometimes we would say that we needed a different guitar part here or there, and without even much conversation about it. We would just try things and just go with it.
After the tour with Three Days Grace and Breaking Benjamin wraps, what are you going to be up to after that?
Im not sure yet honestly. I think we are going to go over to the United Kingdom for a little bit and then do some stuff across Europe. We want to do a headliner sometime this summer so hopefully that is something that will happen.
Take a look at www.flyleafmusic.com for more information.
Story by
Brian Campbell
Starpulse contributing writer