A Conversation With 'Labor Day' Star Brighid Fleming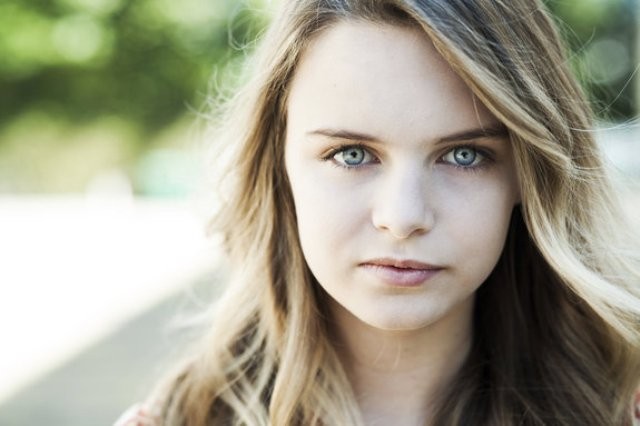 Christmas Day was extra special for actress Brighid Fleming, whose movie Labor Day opened on the holiday. Brighid stars in the drama alongside Josh Brolin, Kate Winslet, and Tobey Maguire, playing the rebellious Eleanor. BFTV spoke with the young actress before the holidays to get the scoop on the movie, and get to know her a little better.
What made her sign on for Labor Day, which is based on the Joyce Maynard novel? "First of all, it has a great director. I loved the idea of working with Jason Reitman, and he was great to work with," she explained. "I loved the script. And it's a very strong girl part for someone my age - you don't have a lot of strong, sassy females in teenage girl roles."
At just 14 years old, Bridgid has already gained accolades, including a 2013 Ovation Award for Featured Actress In A Play for her role in The Nether, and a Young Artist Award nomination for a guest appearance on CBS's Criminal Minds. So what stood out for her about working on Labor Day?
"There's a scene where me and Gattlin Griffith, who plays Henry Wheeler, are walking on these rocks and they were really slippery. We had to like really concentrate on walking and at the same time, say our lines," she continued. "And the lines were originally supposed to be voice-over! It turned out really great, and I'm really proud that we were able to pull it off."
What she'll remember most from the project is "The experience. It's probably the first really big film I've done where I've had a strong character in the movie," she added. "And getting to meet Kate Winslet. That was amazing. She hugged me. How many people get to say Kate Winslet hugged them?"
The movie opened on Christmas, which is not uncommon for feature films, but is a day when many folks have plans with their loved ones that supercede going out to the cinema. So we asked Brighid: did she plan on seeing her own movie on its opening day, or celebrating the holiday, or both? "I'd love to see my own film on Christmas," she laughed. "It's like the best Christmas present, to see something you helped create on the big screen."
With Labor Day wrapped, the actress is returning to more familiar territory: the stage. "I am doing a new play at the Bootleg Theater called 'Day Trader.' It's coming out January 11," she explained. "It's written by Eric Rudnick, and it's really smart. The girl in it actually kind of reminds me of Eleanor in a way. She's very smart and witty and strong. I'm very excited about that. It's a world premiere, so no one's ever done it before." For more information on the play, and to get tickets, you can visit the Bootleg Theater website.
Brighid also saves some time for another passion outside of the entertainment world. "I love roller derby," she enthused. "I've been doing it for a year and a half now. The environment is just amazing. People think it's super-competitive, but all the girls are super-nice. I love the energy and the intensity."
She's completed a feature film, is about to star in a play, and can be found on the roller derby track; clearly Brighid is keeping busy. So what else is left on her to-do list? "I'd like to do a play in New York. Anything in New York would be ideal. I'd like to turn my short film into a web series," she told us, adding that, "I'd like to do a film with either Daniel Craig or Tom Hiddleston, and then my life will be made."

Labor Day is in theaters now. You can also keep up with Brighid by visiting her website (brighidfleming.com) and following her on Twitter (@BrighidFleming1).
(c)2013 Brittany Frederick. Appears at Starpulse with permission. All rights reserved. No reproduction permitted. Visit my official website and follow me on Twitter at @tvbrittanyf.