A Conversation With Brent Smith Of Shinedown

It might be weird to think that a band with as much commercial success as
Shinedown
would even think of breaking up after only two records. Especially when every single released off of those two albums have reached the top five of the Hot Mainstream Rock Tracks chart, but you really would be surprised.
Vocalist/band saving grace Brent Smith almost saw everything he had every worked towards taken away from him, all due to some band member departures and certain personal squabbles, but he persevered. Smith worked as hard as ever, enlisted the help of some of his closest musician friends as well as famed Grammy winning producer
Rob Cavallo
, and hammered out the bands' third studio album, 'the Sound of Madness,' which he referred to as his strongest work yet.
There's no denying it, Shinedown is back at the forefront of modern rock music.
While on their current nationwide tour with Halestorm and 10 Years, Smith took the time to talk to me and fill me in on some things, including just how the road is treating the band, why Shinedown was at the brink of calling it a day and what they did to come back, and the special meaning behind their smash hit single 'Devour.'
SP:
Tell me about your current tour. How's it going?
Brent Smith:
You know what; this tour has been overwhelming for us because it is all sold out. It is going fantastic. We were sad to see Black Stone Cherry go, and Halestorm and 10 Years are out with now. We have nine days off and that pretty much is our break for the rest of 2009. We're heading overseas to play some festivals, and then come back to the US to tour for pretty much the rest of the year.
SP:
So it surprised you that Shinedown could sell out a tour?
Smith:
Not surprised me, just in this economy, with the way things are right no, I was shocked. I won't lie. To see the amount of people that are coming out to the shows is crazy. At the end of the day I have always said that Shinedown only has one boss, and that is everyone in the audience. The other thing is, our demographic is changing a bit. There are a lot more females and a lot more younger people coming to shows. With 'the
Sound of Madness
' a different breed of Shinedown fans has emerged.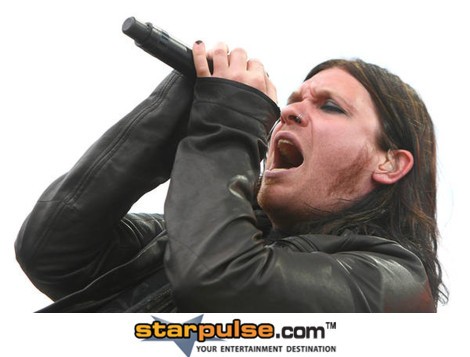 SP:
Tell me what fans can expect from you on this tour.
Smith:
It's not the same show they have seen in the past. There is a different stage design and there is a lot longer set and a lot more songs. We are playing an average of 1:45 minutes per night, to two hours, so it is a long set.
SP:
So are there any surprises if you are playing that long?
Smith:
Just some songs that you wouldn't expect to hear from the other two records, but we play a lot of 'the Sound of Madness.' We play the majority of the record besides about two songs but then we flip flop them each night. We're also playing songs from the limited edition release of the record, those being 'Son of Sam,' 'I Own You,' and the Energy' and another song called 'Junkies for Fame' that was only released through iTunes and the Japan of the record. If you're going to multiple shows you are never going to see the same setlist twice.
SP:
Tell me about the recording process of 'The Sound of Madness.'
Smith:
It was a joy really. A lot of it had to do with our producer Rob Cavallo. I get asked the question all the time as to how we got Cavallo to produce our record and I just kind of shake my head and I say he wanted to do it. When I met Rob I didn't know who he was, I didn't know he did all of the
Green Day
records,
My Chemical Romance's
'
The Black Parade
,'
Phil Collins
and
Kid Rock
stuff or anything like that. He was getting filtered the demos I was doing very early on, so by the time I was 50 or 60 songs into demoing he had already heard them all. It was one of the greatest experiences of making and creating music I have had yet. His outlook on things is very positive and he always has a strong energy about him and that really shows in not only the recording process but also in how the songs came out I think.
SP:
Why were there so many musicians included in the recording of the album?
Smith:
Well, not a lot. I wrote the record during all of 2007 in Los Angeles. Brad Stewart had left the band at that point, and I don't want to throw anybody under the bus, but there were definitely some major, major problems at that time with me and former guitarist Jasin Todd. I pretty much was left writing the material for the album because the things I was trying to get out of the other members just was not happening. It just didn't seem that the fire was there anymore. If anything the fire had to come back for me. There were some serious problems and for me, once I had written the record out in LA, we tried to record with me and Todd but it just wasn't happening. Dave Barrett came in and played most of the guitars on the record and also Tim Pearce, a good friend of ours, played guitars. Chris Chaney also was brought in to play the bass. When we got done with the record, we didn't know what to do honestly. It was scary for me to sit there and think that I had just created the best record I had ever done, but then not know what I was going to do about playing live. I always tell people the same thing about Shinedown; that it is almost as if it has a heartbeat, like it is alive. It will tell me when it is no happy or weak. We called our friends, Zach Myers, who had been playing with the band off and on for about four years, came in as the rhythm guitar player, Nick Perri from
Silvertide
, helped me out with playing lead. He left after we did Europe in 2008 so he could pursue a solo career. One of my closest friends, Eric Bass, came in to takeover bass and we went from a five piece to a four piece. It just doesn't work as a five piece. I think the band is stronger now as it has ever been.
SP:
How is this record different from your prior releases?
Smith:
It's the greatest record we have ever made. It is only our third album and we have only been doing this for four years, so don't get me wrong. I would put 'the Sound of Madness' up against any record in the history of music. It was about going as far as we could possibly go to the edge of what we could do, then asking ourselves if we could push ourselves any further. Every song is an epic, every song is meant to be sonically ferocious. I think we succeeded with that. I got to fulfill a dream of mine of three songs off of the record. The songs 'If You Only Knew' and 'Second Chance' and 'The Crow and the Butterfly' have a 21 piece orchestra on them. 'Call Me; has a quartet on it. We used a lot of synthesizers on this record and also a lot of sound effects. It wasn't just about guitars, bass, drums and vocals with this record. There is a lot of music on this album. It all makes sense. There is a lot going on. We took our time on it. With your first record you get your whole life to do it but with the second you're lucky to get six months.
Shinedown: Second Chance
You know, we were gone for 18 months and I think a lot of people thought we were done. In the beginning, coming back, we weren't playing for that many people. Now, for us to have released this record and to be touring overseas and back in front of sold out audiences, we are very blessed human beings.
SP:
What is the story behind the song 'Devour?'
Smith:
It came from our men and women in the Armed Forces. About three years ago we went into Kuwait and flew in and played a few shows there around. The time that we spent over there with the soldiers, playing for them and talking with them and meeting them on a daily basis really frustrated me. I don't think that in our lifetime we will see anything close to a thing like world peace, but I would like to think that there such a thing as world compromise. 'Devour' is about bringing our soldiers home. You know, the word war is a very ugly word. I think our soldiers have been over there long enough and they need to come home and spend some time with their families. 'Devour' was really a battle cry for them and also a sendoff to our president at that time and some of my personal opinions about him. I have freedom of speech and I thank the soldiers out there fighting on the front line for that. We're not a political band but what we are is pro-soldiers. We adore our troops and respect them to the hilt.
SP:
How did you go about getting 'Devour' and 'Junkies for Fame' included in the RockBand video game?
Smith:
They actually came to us. They liked the songs so much that they came to us and our record label and asked if they could use them ad we said sure.
SP:
Have you played your songs in the game yet? If so, how'd you do?
Smith:
I've played it a bunch of times and I never seem to get to play drums, I always have to play guitar or sing. I'm excited to play the drums on it.
Interview by
Brian Campbell
Starpulse contributing writer