A Conversation With Aasif Mandvi From 'The Daily Show'

It's one thing to be hired, right there, on the spot for a job. A strange combination of joy for getting the position and fear because, well, they want you to start right now. Now, imagine the same scenario but it involved going on television in front of a live studio audience and millions of people at home. This is what happened to current
Daily Show
correspondent
Aasif Mandvi
the day he auditioned for his job. Aasif discusses in depth his experience on
The Daily Show
and why he is such a supporter of Kal Penn's recent career change.
Mike:
You were born in Bombay, now Mumbai, right?
Aasif:
Yes. Bombay now Mumbai, exactly right.
Mike:
What was it like when you first started acting? I noticed you even had a early character named "Indian Guy."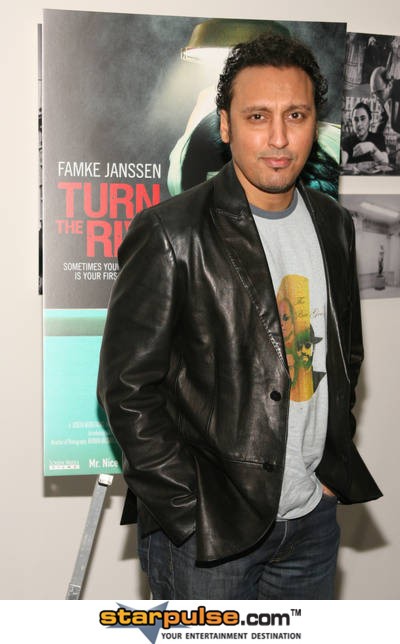 Aasif:
You know, I started in school. In terms of TV and film I guess that happened when I first got to New York and back then, in the early 90's, there really wasn't a lot of roles for Indian guys except roles titled "Indian Guy." I think it's been a slow progression; there are obviously more interesting roles today but when I first started out I played a lot of one dimensional shop keepers and taxi drivers.
Mike:
People that might only know you from
The Daily Show
might not know you have an extensive theatre background.
Aasif:
I was doing theatre for a long time, I started in theatre. I did one Broadway show; I did a musical called
Oklahoma
back in 2002 and that was my only time on Broadway. But, yeah, I've done a lot of plays ... there is something wonderful about doing a play. You miss that and at some point I would love to get back into that.
Mike:
What was it like working with
Ricky Gervais
[in
Ghost Town
]?
Aasif:
It was great. He's just one of my favorite comedians of all time. I took that role primarily to work with him and it was a lot of fun.
Mike:
How did you get started on
The Daily Show
?
Aasif:
I actually auditioned for
The Daily Show
. They were looking for a Middle East Correspondent and they had written this piece for a Middle East Correspondent but they didn't have one. They auditioned me and
Jon
(Stewart) hired me right there and I was on the show that night, actually. That was August 9, 2006.
Mike:
Wow, did you think there was any way you would audition and be on the show that day?
Aasif:
No, no.
The Daily Show
came out of left field for me. I have a lot of experience with comedy and was in a sketch comedy group for years. I had done stand-up and improv and all that stuff so
The Daily Show
was always something I could
see
myself doing but it was never something I thought I would.
Mike:
Did you watch
The Daily Show
much before you auditioned?
Aasif:
I had never heard of it... no, no, of course I watched it extensively.
Mike:
I'm kind of proud of the fact that I went to the third ever taping of
The Colbert Report
and I asked
Stephen Colbert
this same question: Why do people agree to be interviewed for your [correspondent] segments?
Aasif:
I think everyone wants to be on TV. And since you asked Stephen Colbert this question I'll tell you what Stephen Colbert said to me when I went out on my first field piece. He said, "When you point a camera in somebody's face, they get a lobotomy. And that has proved itself to be quite true.
Mike:
I'm sure they know it's going to be re-edited and not come off well for them but they don't seem to care, do they?
Aasif:
Well, you know, people are very passionate about what they believe and they speak to us candidly and from a place of what they believe and what they think. They treat us like they're talking to
60 Minutes
and I think they want to say what's on their mind. And they do and that can sometimes produce hilarious things.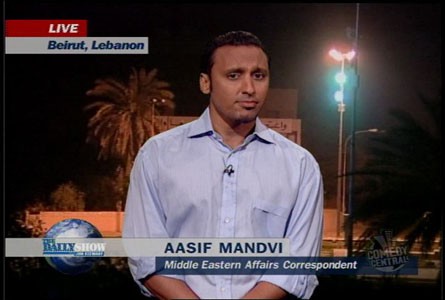 Mike:
Do you ever get someone that says: No, no ... I've seen the show, I'm not going to do that.
Aasif:
All the time. Many field pieces die because we can't get people to talk to us as much as people that are willing to talk to us. I mean, we can't do a piece if people are not willing to talk to us.
Mike:
The Daily Show
has been a nice springboard for success lately. The most recent main group to leave -- Stephen Colbert,
Rob Corddry
,
Ed Helms
-- are all doing really well now.
Aasif:
Yeah, I think we have a lot of talented people on the show.
The Daily Show
gives a lot of talented comedy voices a launching pad ... writers, actors, all kinds in the arts.
Mike:
Something I've always enjoyed ... the "Reporter Voice." Sam Bee does it really well, that "KY3 Springfield, Missouri Action News Team" voice. Is that hard to learn or does that come pretty naturally after a few segments?
Aasif:
When I first started on the show I just basically went in there and did a Stephen Colbert impression. Eventually at some point you find your own voice. There is that kind of archetypal sort of reporter cadence and tone.
Mike:
Being a parody news show -- and the show is so different than when it started with Craig Kilborne; being primarily politics now -- do you find that when something tragic actually happens in the world that it's hard to write material? In other words: A show like
Saturday Night Live
can just write a sketch about the Muppets and not have to deal with it.
Aasif:
Yeah, yeah, it is hard. I think they had a really tough time after the Mumbai attacks, for example, really coming up with something. Then, they did a piece with (John) Oliver that didn't really deal with the attacks, instead more with the concept of terrorism. Sometimes when there are really, really tragic things in the world we don't touch it.
Mike:
Did they come to you for that one? Was it a situation where it was too close to home?
Aasif:
No, I think I would have probably ... I was out of town.
Mike:
I think viewers get attached to people on the show and it's sad when they leave. I was sad to see Rob Riggle leave recently.
Aasif:
We were delighted. I mean, I personally was delighted because my body could heal from the bruises.
Mike:
He seems like someone who liked to roughhouse.
Aasif:
He's like a big dog that lives in your house but you didn't buy him. So you don't know who he belongs to or why he's in your house. He's like a giant animal. I shouldn't say this stuff ... I love Rob, by the way. He's a great man.
Mike:
But it sounds like your health insurance premiums might have gone down a bit since he left.
Aasif:
A little bit, a little bit. I think everybody's did. We were paying heavily because being in the vicinity of Rob Riggle makes you an insurance risk.
Mike:
Is it tough when you first start on
The Daily Show
-- which is watched by so many people -- and having to be confident with your piece when no one watching really knows who you are or why you are there yet? The confidence, at first, has to be tough.
Aasif:
I don't think anyone knows why I'm there now (laughs). No, there was a very particular tone that I was playing, that I was brought in to cover, which was walking the line of being the "ethnic guy" and walking the line ... that fence between cultures and I think that is kind of where my character lives. It is a unique position that I feel has been created on the show and there's never really been that voice before. And as an actor you play a character; I never see the character I play on
The Daily Show
as me. He's just this guy who happen to share my name.
Mike:
You've been on a lot of television shows -- some really cool shows by the way:
The Sopranos
,
Jericho
-- what's your favorite show that you've been on?
Aasif:
I have to say
Jericho
was a blast -- and I don't mean that as a pun -- but it really was. That one particularly felt like a family and felt really cool and those people were really great to work with. And I was sad when it was over. And I also had a lot of fun playing that role because he got to be sort of drunk and it's always fun as an actor when you're allowed to be drunk, basically (laughs).
Mike:
I'm glad they at least let the show have an ending.
Aasif:
They're talking about making a movie, I hope they do that.
Mike:
OK, this was a reader question:
Obama
put
Kal Penn
-- who was born in New Jersey -- in his administration [as Associate Director of the White House Office of Public Liaison]. If he wanted someone with Indian ancestry, do you wish they would have asked you?
Aasif:
Well, Kal was really vying for that position and God bless him because I'll play Kumar. So what's happened is he's gone into politics and I'm now becoming Kumar. As a fellow brown actor I want to congratulate him and wish him well ... and I'm happy he's no longer competing for my work.

"Mike's Pulse" is a column written by transplanted Midwesterner and current New Yorker Mike Ryan. For any compliments or complaints -- preferably the former -- you may contact Mike directly at miker@starpulse.com
or submit reader questions for celebrites to Mike on
Twitter
.