A Chat With The New Face Of MTV, Adrienne Bailon

TRL
was the bane of my existence. Am I the only one who remembers when MTV first started and you either liked music videos or you did not, it was as simple as that. When
Total Request Live
started in 1997, MTV made a concerted effort to market toward a younger demographic. At that time I was very much in that demographic, yet, I still resented it. There was nothing worse than being pandered to; it was hard not to imagine a boardroom of executives trying to come up with what would please me ... the young viewer.
Carson Daly
did not please me.
Well, thankfully for me,
TRL
is gone. Now, should I give MTV another chance? Maybe bring the network back into my life? I decided there was no better person to ask about this -- other than, perhaps, the ghosts of Mark Goodman or Martha Quinn -- than the new face of MTV in the afternoons,
Adrienne Bailon
.
Mike:
You were born on the Lower East Side [of Manhattan], correct?
Adrienne:
Yes.
Mike:
I'm assuming that was a much different Lower East Side than we know today?
Adrienne:
Oh my god, completely different than the way it is now. It's so weird, I went back to my old neighborhood -- which I always do; it's like my favorite place -- and I was eating at a restaurant and
Scarlett Johansson
was there and I was like: where am I? It's like the cool place to be now. It was not that way when I was growing up. To me it was the coolest place but not so much for everyone else.
Mike:
OK, so coming out of the Lower East Side ... how did you get your first break?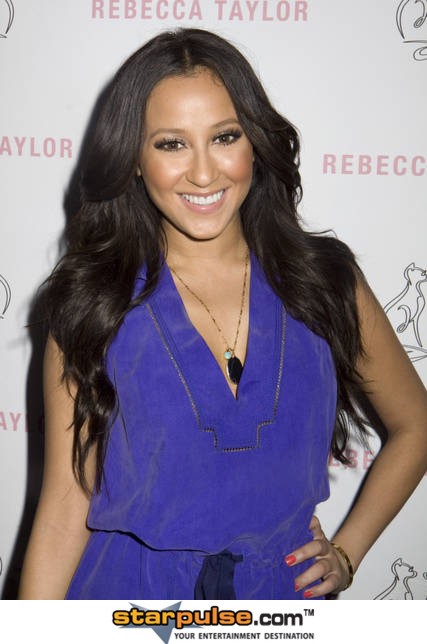 Adrienne:
Crazy enough, I had no connections to the industry at all. I'm not some celeb's daughter or, like, a singer's kid ... so I had no connections to the industry and I decided singing was going to be more of my passion and that I was going to concentrate on going to school to be an obstetrician.
So actually my high school was a specialized high school for health professions and human services, so they would make us do internships at Beth Isreal -- on 1st and 16th, I think it is -- and pretty much I was doing my internship and a producer walked into the doctors office and was like, "Hey, I'm putting together a girl group. Do you sing?" He was like, "Here's my card, you should come audition for this girl group." And the girl group actually was
3LW
.
Mike:
And eventually you wound up with
Cheetah Girls
.
Adrienne:
Yeah, 3LW was actually my break into the industry and we were pretty much a young girl group and we had a song called "No More." And when Disney actually started to do the Cheetah Girls ... it was originally a series of books and Disney bought the rights and were going to make a Disney channel original movie. And, they were casting and they were like: oh my gosh ... well, the movie is about a young girl group and 3LW is a young girl group; we should have those same girls come in and audition.
Mike:
So, you're going to be the new face of the afternoons on MTV, how did that come about?
Adrienne:
... Growing up in New York I was the biggest MTV fiend. I would rush home from school and go stand outside of
TRL
with my posters or just to go home and watch
TRL
. So to be a part of the MTV family, for me, is just such an honor and it's kind of like the next step. Disney is the teens and MTV is, to me, the teens and young adults and that's definitely where I am.
[At this point we lose our phone connection, when we connect again the first thing I hear is:]
Adrienne:
Get out of the cab, we have a limo!
Mike:
OK, I have to ask what that meant.
Adrienne:
Oh (laughs) I'm sorry, I'm here with
Khloe
(Kardashian) talking about last night. One of our friends was telling us not to get in a cab but we were like: It's New York City ... everyone gets in a cab. So we were just making fun of him.
Mike:
Right (laughs). OK, so when you look at
TRL
in the 90's that was, kind of, aimed at more of a younger crowd or a teenage crowd. Do you think MTV is now trying to get back into bringing [an older demographic] back?
Adrienne:
Definitely! I think with the new programming ... when TRL ended everyone was like: what's going to happen with afternoon programming on MTV? I think this is definitely the answer to that. It's so fresh and, I think, just having the celebrities that are coming by ... it's going to be awesome. Hopefully it will be that same craze, you know? Everyone will want to hang out with us on the afternoons.
Mike:
Well, it's got some interesting shows like the show with Dr. Drew and the
Room Raiders
show.
Adrienne:
Yes! That's my favorite! My Favorite is actually the
Sex...With Mom and Dad
.
Mike:
Yeah, the show with Dr. Drew.
Adrienne:
Yeah, we have celebrities on and they actually sit and watch the shows with us. In the afternoons they just come and chill out with us and we discuss our opinions on the show. It's very taboo. A lot of the topics on
Sex...With Mom and Dad
, especially, are very taboo and seeing your favorite celeb's standpoint on these kinds of things is pretty cool. And they get to promote any upcoming projects they have and we just talk about whatever they want to in the afternoon.
Mike:
And you're basically going to be segwaying between all this programing, correct?
Adrienne:
Yes. Just talking, chit-chatting ... we also have live web-cam stuff which is pretty cool and now, in this day and age, teenagers are obsessed with new technology and the Internet and web-cams and they're so Internet savvy that you actually can be on the web with us live and you can ask Dr. Drew questions about the episode that you just watched, all that good stuff, and you can talk to the celebrities that are in-house with us in the studio.
Mike:
OK, that's pretty much it ... this is more of a statement and you can comment if you want. But, it's funny that I'm in New York, the media capital, but when I mentioned to people that I was going to be talking to you it was my friends back in the Midwest -- the ones that have kids -- that were all big fans.
Adrienne:
Ohh... well tell them I said thank you so much.
Mike:
Yeah, of all my friends, those were the ones who were the most excited I was talking with you.
Adrienne:
Aww... thank you. I know, it's so crazy hanging out here, at Fashion Week, and I was just at Mercedes Benz, the lounge, and some of the older women were like, "My kids love you." I think it's the best feeling in the world, you know? It's very fulfilling.
Mike:
Well, trust me, from what I heard today, the kids do...
"New Afternoons on MTV" will welcome celebrities as they stop by for some "couch time" with Adrienne Bailon. "New Afternoons on MTV" starts weekdays at 4pm.

"Mike's Pulse" is a column written by transplanted Midwesterner and current New Yorker Mike Ryan. For any compliments or complaints -- preferably the former -- you may contact Mike directly at miker@starpulse.com