A Catch-Up Guide To 'The Chicago Code'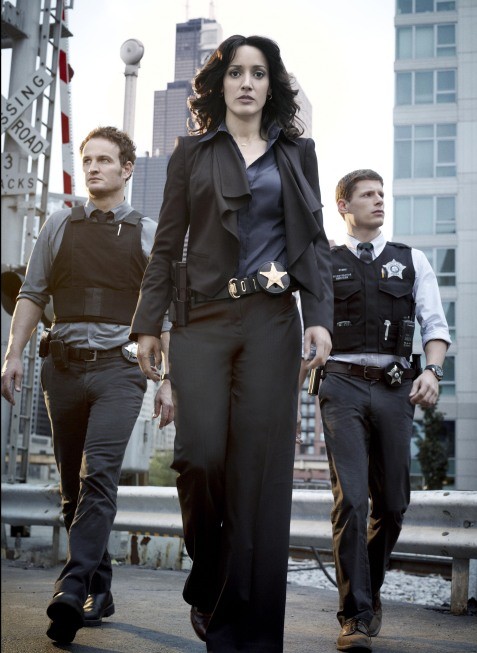 FOX's The Chicago Code - my favorite show on television - returns tomorrow night at 9 PM ET/PT with the first of two all-new episodes. In case you're still trying to jump onboard (and what are you waiting for?) here's a primer on what you might have missed. (For more information about each episode, you can also consult my The Chicago Code reviews.)
The Chicago Code is anchored by the character of Teresa Colvin (played by Jennifer Beals of The L Word), a Windy City native who grew up witnessing corruption first-hand in her father's hardware store. Thus motivated, she went on to become Chicago's first female Superintendent of Police, which took her only eight years.
Though she was put up for the job only as a token candidate after the mayor's first choice was hospitalized, and only got the position because people believed she could be controlled, Teresa has shown that she follows no one's agenda but her own. This has led her to make many enemies in short order, including many police officers who dislike her attempts to clean house at their expense.
Her devotion has also cost her in her personal life: after uncovering that her brother-in-law is trying to sell access to her ("O'Leary's Cow"), she gave him an ultimatum to report himself to the FBI which led her upset sister to sever ties with her.
Not long after starting to probe into Alderman Ronin Gibbons (Delroy Lindo of Kidnapped) and his ties to the Irish mob, Teresa was the target of a murder attempt ("Pilot"), but her driver and longtime friend Antonio Betz (Manny Montana) took the bullets instead and was killed. The subsequent investigation uncovered that the shooter was not connected to Gibbons, but a young man who had been riled up unintentionally by a bitter sergeant whom Teresa had demoted recently ("Hog Butcher").
She was also shocked to discover that her chief of staff was caught on tape offering to sell her out, an act which led to him being replaced by Lieutenant Kelly, one of Alderman Gibbons' top cops ("Gillis, Chase & Babyface").
Teresa's closest ally is her former partner, Detective Jarek Wysocki (Jason Clarke of Brotherhood), a well-known homicide cop whose abrasive personality leads him to drop his partners every couple of days. At first resistant to get involved with Teresa's pursuit of Gibbons, Jarek changes his mind after she is nearly killed.
It's not his first brush with death - his brother, Vincent Wysocki, was killed in the line of duty and the perpetrator remains at large. After his brother's death, Jarek took the responsibility of looking out for his niece, Officer Vonda Wysocki (Devin Kelley), who is now part of the Organized Crime Task Force along with her partner, Officer Isaac Joiner (Todd Williams), whom Jarek doesn't like.
Thanks to his relationship with Teresa, Jarek has the power to take over any case he chooses, which has led to him getting an even more unfavorable reputation among his peers, many of whom believe he's become her errand boy. That belief once led some of his fellow cops to ignore his request for backup when caught in a shootout with a robbery suspect, which nearly got him, his partner and a bystander killed ("Gillis, Chase & Babyface").
Jarek also has personal problems of his own: though engaged to the much younger Elena (Camille Guaty), he's still sleeping with his ex-wife, Dina (Amy Price-Francis), much to the annoyance of their teenage son. Dina is visibly perturbed when Jarek tells their son that they're not getting back together, since he's told her that he'll leave Elena, but it's revealed that he is deeply conflicted by the entire situation ("Black Hand and the Shotgun Man").
Jarek's new partner is Detective Caleb Evers (Matt Lauria of Friday Night Lights), a Northwestern graduate with aspirations to join the FBI. Caleb may be relatively inexperienced compared to Jarek, but has outstanding instincts and his boy-next-door good looks hide his attitude; though he's genial, as he becomes more comfortable with Jarek, he's not afraid to push back when his partner rubs him the wrong way. Caleb has figured out that Jarek is having an affair with his ex-wife ("The Gold Coin Kid").
Well-meaning, Caleb has gotten close to a victim's roommate ("The Gold Coin Kid") and shot down by a nurse he tried to ask out ("O'Leary's Cow"). A Cubs fan, he's already gotten several nicknames from Jarek, including "Wrigley Field," "Ridgemont High," and "you dirty, rotten, lying Cubs fan."
The chief villain on the show - on paper, anyway - is Alderman Ronin Gibbons. Gibbons has ties to the Irish mob, but doesn't let himself get pushed around by them either ("Gillis, Chase & Babyface"). He was targeted by a black gang that wanted the same protections as the Irish, but thwarted the attempted shooting himself and the man who ordered it was later found dead ("Cabrini Green").
Despite his shady dealings, Gibbons has also shown himself to do good things on behalf of his community (though some of them also benefit him), such as making sure the Cabrini Green housing project is torn down, and gaining the assistance of the Mayor of Chinatown so that the police can solve a murder in the neighborhood ("O'Leary's Cow"). He even tells one of his mob associates, Hugh Killian, that Teresa has "too much integrity" to frame Killian, suggesting he has at least some respect for her ("Gillis, Chase & Babyface").
One of the many wiseguys working for Gibbons is Liam Hennessey (Billy Lush of Three Rivers), who is revealed in "Pilot" to be an undercover cop. Only Teresa, Jarek and Caleb know Liam is undercover, and has been for a year. Liam is in covert contact with Teresa, and later with Jarek, to inform them about the actions of the Irish mob henchmen on street level.
The job begins to take its toll on him when a man is killed in a house fire that he sets as part of a string of arsons ("O'Leary's Cow"). At first, Liam tells Jarek that he wants out from under, but Jarek persuades him to stay; he is later roped into acting as Gibbons' driver, and ends up going with the Alderman to comfort the widow of the man he killed ("Black Hand and the Shotgun Man"). Though Liam is getting into the good graces of his target, there is no doubt that success is coming at a high cost to his sanity.
To call The Chicago Code a procedural would be a mistake; that framework is just the part that gets you in the door. What The Chicago Code has shown itself to be, from the pilot on forward, is a story that is less about the "whodunit" than about the people who are answering that question - and in turn, about the city of Chicago, which is itself a character in the series. While the plot to bring down Gibbons is great (heaven knows I look forward to that episode), the show can survive without it, because we have a host of excellent characters, all with something to say, against a backdrop rich in culture and history. I don't see this as a cop show; like The Wire, Brotherhood or Justified, it goes beyond that and becomes something much larger. You can come for the crime drama, if it gets you to the table. But stay for the characters, who will pull you in until you're seeing through their eyes.
The Chicago Code returns tomorrow night with its eighth episode, "Wild Onions." View my advance review of tomorrow night's episode. For more on the series, visit ChicagoCodeFan.com.