A Bikini-Clad Tori Spelling Reveals Her 45-Pound Weight Loss & Post-Baby Body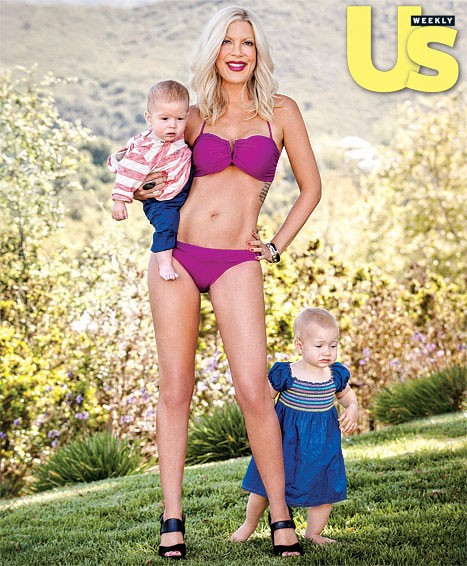 Tori Spelling is sexy and proud, as evidenced by a new photo in the latest issue of Us Weekly that features the former "Beverly Hills, 90210" star wearing a purple bikini.
The actress, who gave birth to son Finn in August, seems to have recovered from the difficult pregnancy, which forced her to stay in bed for four months while she battled a severe form of placenta previa, a rare bleeding disorder.
Three weeks after giving birth, Spelling underwent emergency surgery after her cesarean section scar burst, causing massive blood loss. At the time, rumors swirled that the actress' post-pregnancy hospitalization was for a tummy tuck.
She told Us Weekly: "The last thing on my mind was getting my body back."
With health problems like that, we don't blame her. But look at her now! After gaining 30 pounds from her pregnancy, as well as an additional 15 she picked up over the past couple of years, Spelling is 45 pounds lighter and sexier.
"I feel like I took off the weight safely, and I'm totally happy here," she revealed. 
Believe it or not, Spelling is not allowed to do situps or lunges for at least a year, yet her stomach is incredibly toned.  She told Us, "I think my stomach went back pretty well!"
Spelling is featured in the photo with her son Finn and daughter Hattie, 18 months. She and her husband Dean McDermott have two other children: Liam, 6, and Stella, 4.
The new Us Weekly is available on Friday, April 19.  It features details on Spelling's weight loss, her exercise routine and more!