A Bikini-Clad Heather Graham & 'Hangover' Co-Star Ken Jeong Hit The Beach In Rio De Janeiro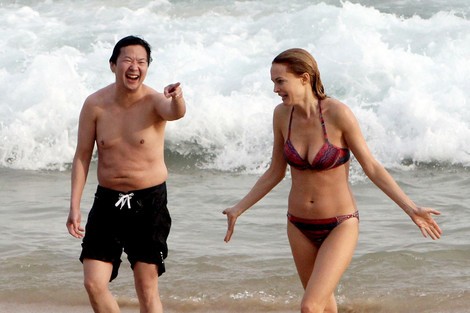 We spotted Heather Graham showing off her slender bikini body at Ipanema beach with her "The Hangover Part III" co-star Ken Jeong in Rio de Janeiro on Tuesday.
The 43-year-old actress and her comedian pal appeared to be having a great time splashing around the water while promoting their latest film in Brazil.
Graham told the June issue of Maxim magazine that she had a super time making the third film of the franchise: "It was really fun to see everyone again; it felt a little like a reunion. Everything's different in a way because the movies they've done since the first 'Hangover' have all been so successful, but everything's also exactly the same."
Jeong, meanwhile, was forced to overcome his "deathly" fear of heights to shoot high-flying scenes for the film. The actor explained, "I worked with this amazing stunt coordinator, Jack Gill... and he desensitized me from my fear of heights in six weeks."
In the film, the wolf pack heads to Las Vegas to cheer up Alan after his father passes away. What could possibly go wrong?
Check out more photos of Heather and Ken...