Barack Obama
Birth Name:
Barack Obama
Born:
08/04/1961
Birth Place:
Honolulu, Hawaii, USA
After welcoming two daughters, Malia, born 1998, and Sasha, born 2001, Obama saw his political star shine even brighter when he delivered the keynote address at the Democratic National Convention. He surprised many when he ran for and won the 2008 U.S. presidency over challenger John McCain, becoming the first African-American president and beating out fellow Democrat Hillary Clinton, who would become his biggest ally as Secretary of State. Although many of his more hysterical critics called his nationality, religion and loyalty to America into question, Obama earned the seal of approval from Oprah Winfrey and, for many, represented the best in American ideals: optimism, intelligence and com...
Continue Bio >>
Music:
Listen to Barack Obama
and similar artists - Play Now
The Great Presidential Debates, Vol. 4
Best Of The Obama White House - Volume One
The Presidential Debate #1 - 10/3/2012
2012 Presidential Debate #3 - October 22, 201…
2012 Presidential Debate #2 - October 16, 201…
The 44th President Of The United States
Look At Berlin
People Of Ghana (Feat. Barack Obama)
Hope,Change,History And Present - (Barack Oba…
All Albums >>
Latest Tracks:
More Tracks >>
Photos:
View All Pictures >>
Facebook:
Barack Obama
"I'm looking forward to talking with Alaskans about how we can work together to make America the global leader on climate change." —President Obama Watch the weekly address.
Saturday 29th of August 2015 11:28:26 AM
Barack Obama
"I believe that rejecting this deal would significantly weaken our ability to achieve our broader foreign policy goals." —Ambassador Samantha Power Read more: <a href="http://ofa.bo/a57N" target="_blank">http://ofa.bo/a57N</a>
Congress, Don't Isolate America Again Over Iran
We'll lose a huge amount of influence around the world if the deal is voted down.
Friday 28th of August 2015 02:36:07 PM
View All Facebook Posts >>
Popular Movies and Television: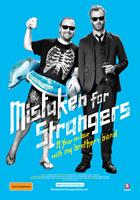 Mistaken for Strangers
2013
The 36th Annual Kennedy Center Honors
2012
2013 Macy's 4th of July Fireworks Spectacular
2012
2013 Macy's Fourth of July Fireworks Spectacular
2012
Macy's 4th of July Fireworks Spectacular
2012
Macy's Fourth of July Fireworks Spectacular
2012
2012 Kennedy Center Honors
2012
35th Annual Kennedy Center Honors
More Credits >>