Barack Obama
Birth Name:
Barack Obama
Born:
08/04/1961
Birth Place:
Honolulu, Hawaii, USA
After welcoming two daughters, Malia, born 1998, and Sasha, born 2001, Obama saw his political star shine even brighter when he delivered the keynote address at the Democratic National Convention. He surprised many when he ran for and won the 2008 U.S. presidency over challenger John McCain, becoming the first African-American president and beating out fellow Democrat Hillary Clinton, who would become his biggest ally as Secretary of State. Although many of his more hysterical critics called his nationality, religion and loyalty to America into question, Obama earned the seal of approval from Oprah Winfrey and, for many, represented the best in American ideals: optimism, intelligence and com...
Continue Bio >>
Music:
Listen to Barack Obama
and similar artists - Play Now
The 44th President Of The United States
Look At Berlin
People Of Ghana (Feat. Barack Obama)
President Obama Hip Hop Oath (Single)
Hope,Change,History And Present - (Barack Oba…
The Greatest Speeches Vol. 2
The Greatest Speeches Vol. 1
Swift Action On The Economy
The Need To Put Partisanship Aside To Solve T…
All Albums >>
Latest Tracks:
More Tracks >>
Photos:
View All Pictures >>
Facebook:
Barack Obama
"The day I finally got affordable health insurance, I practically ran through the streets yelling the good news." Read Jason's story: <a href="http://ofa.bo/b0jI" target="_blank">http://ofa.bo/b0jI</a>
Affordable care for the self-employed
Access to a quality health insurance plan has helped my business grow.
Tuesday 19th of August 2014 05:19:17 PM
Barack Obama
This is news worth sharing. <a href="http://ofa.bo/c0hR" target="_blank">http://ofa.bo/c0hR</a>
Chart of the Week: Job Openings Hit a 13-Year High This Summer | The White House
American business owners advertised 4.67 million jobs in June, the highest number of openings since February 2001—a clear signal that the economy is strengthening.
Tuesday 19th of August 2014 01:03:38 PM
View All Facebook Posts >>
Popular Movies and Television: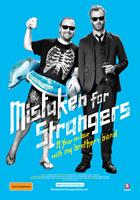 Mistaken for Strangers
2012
2012 Kennedy Center Honors
2012
35th Annual Kennedy Center Honors
2011
Betty White's 90th Birthday: A Tribute to America's Golden Girl
2011
Celebrity Vacation Homes
2011
Targeting Bin Laden
2011
WWE Tribute to the Troops
2011
11th Annual CMT Music Awards
More Credits >>