Kid Capri
Born:
1970/02/07
Years Active:
1991-present
Genres:
Hip Hop
David Anthony Love, Jr (born February 7, 1970), also known by his stage name Kid Capri, is an American musician. He was born in the Bronx, New York City, New York, USA. He is the son of David Love Sr., a Musician/Singer. He is of African-American and Italian descent. In the 1970s, Kid Capri began to attend block parties, starting his DJ career at the age of 8. He eventually garnered widespread attention at Studio 54 and began selling his sets with his partner at the time Starchild. Kid Capri has deejayed for seven seasons of Def Comedy Jam. He's also produced tracks for Boogie Down Productions, Heavy D, Big L, Grand Puba, and Quincy Jones. He eventually released an LP on Warner Brothers Rec...
Continue Bio >>
Music:
Listen to Kid Capri
and similar artists - Play Now
The Tape
Get Me @ This Party
Soundtrack To The Streets (Edited)
Latest Tracks:
More Tracks >>
Photos:
Popular Movies: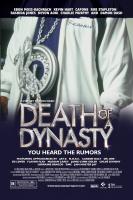 Death of a Dynasty
The Show
Who's the Man?
More Credits >>