George Benson
Born:
1943/03/22
Birth Place:
Pittsburgh, Pennsylvania, United States
Years Active:
1964–present
Genres:
Jazz, Funk, R&B, Pop
George Benson (born March 22, 1943) is a multi-Grammy Award winning American musician, whose recording career began at the age of twenty-one as a jazz guitarist. He is also known as a pop, R&B, and scat singer. This one-time child prodigy topped the Billboard 200 in 1976 with the triple-platinum album, ''Breezin." He was also a major live attraction in the UK during the 1980s. Benson uses a rest-stroke picking technique similar to that of gypsy jazz players such as Django Reinhardt. His 1974 release, "Bad Benson" climbed to the top spot in the Billboard jazz chart, while the follow-ups, "Good King Bad" (#51 Pop album) and "Benson and Farrell" (with Joe Farrell) both reached the jazz top th...
Continue Bio >>
Music:
Listen to George Benson
and similar artists - Play Now
Young And Great
The Ultimate Collection
The Best
George Benson Greatest Hits
Jazz Masters: George Benson (Live!)
Tutti Fruitti Jump (Feat. Total Kaos, George …
Erotic Moods
Livin' Inside Your Love
George Benson Live!
All Albums >>
Latest Tracks:
More Tracks >>
Photos:
Facebook:
George Benson
Looking forward to seeing all my friends in Hollywood, Fl and sharing the stage with my musical brother, #boneyjames
Hard Rock Live Presents George Benson and Boney James at Hard Rock Live on May 10, 2016
on Ticketmaster
Friday 6th of May 2016 07:52:14 PM
George Benson
Coming your way in the UK!
Timeline Photos
Friday 6th of May 2016 02:37:12 PM
View All Facebook Posts >>
Popular Movies and Television: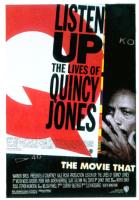 Listen Up
2003
World Music Awards 2003
2001
Broadway's Best
2001
Broadway's Best From Bravo
2000
George Benson: Absolutely Live
1999
42nd Annual Grammy Awards
1998
NAACP Image Awards
1998
30th NAACP Image Awards
1997
Nissan Presents: A Celebration of America's Music
More Credits >>