Night Watch
Release Date: February 17, 2006
Running Time: 116 mins.
MPAA Rating: R
Box Office: $1,487,477.00
Genre: Action, Adaptation, Fantasy, Foreign
News:
•
James McAvoy, Angelina Jolie & Morgan Freeman Star In 'Wanted,' On DVD Dec. 2
•
Opening June 27: Wanted
•
Angelina Jolie & James McAvoy Star In 'Wanted,' Coming This June
•
Universal Pictures Moves Release Of 'Wanted' To Summer 2008
•
Hard-Core Unrated Extended Edition 'Pathfinder' DVD Features Intense Graphic Battle Action
More News >>
Cast:
Konstantin Khabensky
Vladimir Menshov
Viktor Verzhbitsky
Maria Poroshina
All Cast & Crew >>
Summary:
In contemporary Moscow, a 1000-year-old truce upholds between the forces of Light and the forces of Darkness. For centuries, the undercover members of the Night Watch have policed the world's Dark Ones--the vampires, witches, shape-shifters and sorcerers that wage treachery in the night--while the Dark Ones have a Day Watch that in turn polices the forces of Light. The fate of humanity rests in this delicate balance between good and evil but that fate is in jeopardy. Ancient prophecy foretells that one day a "Great One" will arrive who can end the apocalyptic battle between Light and Dark conclusively. That time has arrived in Moscow--but which side will the Great One choose?
Photo Gallery:
Related Movies:

Day Watch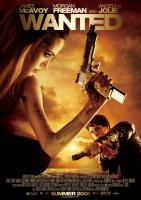 Wanted
Browse More Movies:
#
A
B
C
D
E
F
G
H
I
J
K
L
M
N
O
P
Q
R
S
T
U
V
W
X
Y
Z