Life Is Beautiful
Release Date: October 23, 1998
Running Time: 122 mins.(V)
MPAA Rating: PG 13
Box Office: $57,598,247.00
Genre: Comedy, Drama, Foreign, Period
News:
•
Happy 70th Birthday, Nick Nolte
•
Spotlight On Talented, Oscar-Winning Movie Stars
•
Movies With Heart: The 100 Best 'Romdramedies' Of The Past 20 Years
•
Classic Tearjerking Movies
•
Aussie Vocal Superstars The Ten Tenors Salute Film Score Icons John Barry And Don Black On New Album
Cast:
Roberto Benigni
Nicoletta Braschi
Giustino Durano
Sergio Bustric
All Cast & Crew >>
Summary:
In 1939, Guido, an Italian Jew, falls in love with Dora, who isn't Jewish. He woos her away from the Fascist official she has been dating, and they get married. Their son Giosue grows up among growing anti-Semitism. As the war progresses, Guido and Giosue are arrested and taken to a concentration camp. Dora goes too, determined not to separate the family. In the midst of the horrors of the camp, Guido protects his son by pretending that survival in the concentration camp is an elaborate game with which Giosue must play along or be sent home.
Related Movies: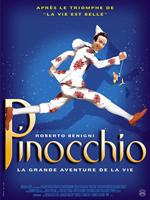 Pinocchio

The Tiger and the Snow
Browse More Movies:
#
A
B
C
D
E
F
G
H
I
J
K
L
M
N
O
P
Q
R
S
T
U
V
W
X
Y
Z