William Castle
Birth Name:
William Castle
Born:
04/24/1914
Birth Place:
New York City, New York, USA
Death Place:
Beverly Hills, California, USA
Died:
05/31/1977
Eccentric director of routine low-budget horror films, with a flair for self-promotion. Castle's standout efforts include the B thriller, "When Strangers Marry" (1944), with Robert Mitchum in his first important role and the camp gem, "House on Haunted Hill" (1958). Like latter day P.T Barnum, upon whom he modeled himself, Castle lured audiences to his chillers by appearing in their trailers and psyching the audience up to be scared. Most of his films included outrageous gimmicks such as an insurance policy against death by fright for "Macabre" (1957), skeletons that whistled over the audience in a process called "Emergo" during critical scenes in "House on Haunted Hill" and his most audacio...
Continue Bio >>
Popular Movies:
The Day of the Locust
Bug
Shampoo
Shanks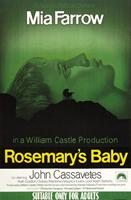 Rosemary's Baby
The Night Walker
The Tingler
More Credits >>