Marc Singer
Birth Name:
Marc Singer-spb4187420
Born:
01/29/1948
Birth Place:
Vancouver, British Columbia, CA
While many actors are drawn to the stage, Singer barely had a choice. Born Jan. 29, 1948 and raised in Vancouver, British Columbia, Singer grew up in a family of performers. His father was a symphony conductor; his mother was a concert pianist. The apple not falling far from the tree with this family, his sister, Lori, would go on to enjoy a successful acting career of her own, most notably opposite Kevin Bacon in the film, "Footloose" (1984) as well as on the hit TV eighties TV show, "Fame" (NBC, 1982-87). Even more impressive, his adopted cousin was no slouch in the fanboy department himself - "Superman Returns" (2006) and "X-Men" (2001) director Bryan Singer.
Singer's family moved ofte... Continue Bio >>


Popular Movies:
Eagle Eye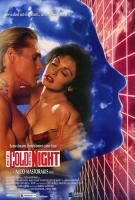 In the Cold of the Night
DeadSpace
Beastmaster 2: Through the Portal of Time
A Man Called Sarge
If You Could See What I Hear
The Beastmaster
Go Tell the Spartans
More Credits >>