Cesare Danova
Birth Name:
Cesare Danova
Born:
03/01/1926
Birth Place:
Italy
Death Place:
Los Angeles, California, USA
Died:
03/19/1992
Suavely handsome leading man in Italian films of the late 1940s and 50s who signed with MGM in 1956. A prolific actor who was featured in more than 350 films and TV productions, Danova appeared in supporting roles in such Hollywood productions as "Tender is the Night" (1962), "Gidget Goes to Rome" (1963) and "Viva Las Vegas" (1964). He brought a smooth sophistication to the role of Harvey Keitel's mob-connected uncle Giovanni in Martin Scorsese's "Mean Streets" (1973). A frequent TV performer, Danova starred on his own series "Garrison's Gorillas" (1967) and was a guest on "The Rifleman", "Mission: Impossible" and "Murder, She Wrote", among others.
Popular Movies:
National Lampoon's Animal House
Tentacoli
Scorchy
Mean Streets
Boy, Did I Get a Wrong Number!
Viva Las Vegas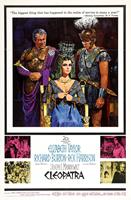 Cleopatra
More Credits >>