Byron Barr
Birth Name:
Byron Barr
Born:
11/04/1913
Birth Place:
St Cloud, Minnesota, USA
Death Place:
New York City, New York, USA
Died:
10/19/1978
Amiable supporting player and occasional lead who broke into film in the early 1940s. Young appeared in several bit parts under his given name, Byron Barr, and the pseudonym, Bryant Fleming, before adopting the name of his character in the 1942 feature, "The Gay Sisters". While he proved capable in several dramatic parts (notably as the sleazy emcee in the haunting "They Shoot Horses, Don't They?" which brought him a Best Supporting Actor Oscar), Young seemed destined to play debonair cads and slightly inebriated playboys who never win the female lead in the end in sophisticated light comedies such as "Desk Set" (1957), "Teacher's Pet" (1958) and "That Touch of Mink" (1962). Young's third an...
Continue Bio >>
Popular Movies:
Game of Death
The Hindenburg
The Killer Elite
Bring Me the Head of Alfredo Garcia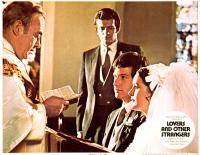 Lovers and Other Strangers
That Touch of Mink
Kid Galahad
Desk Set
More Credits >>