Jane Velez-Mitchell
Photos:
View All Pictures >>
Facebook:
Jane Velez-Mitchell
Ending the night with a happy ending! See you tomorrow...
Watch firefighters rescue hamster family from fire!
The Lacey Fire Department District 3 in Lacey, Washington, bravely rescued two adult and three baby hamsters from a small fire at a mobile home Friday. The firefighters tweeted their progress as they put out the fire and saved the furry creatures. Unfortunately, one baby did not survive. Watch the e…
Tuesday 30th of September 2014 09:00:01 PM
Jane Velez-Mitchell
I'm LIVE -- Join me on HLN... A community is stunned as cops say a family of five was found dead by their adult son in their Utah Home -- But not a single shred of evidence points to how or why! Here is what we know: * Investigators say 37-year old Ben Strack, his wife, 36 year old Krisit and their three children ages 11 to 14 were all found dead inside the master bedroom of the duplex. * Police say the family's 18 year old son came by the house and found it strangely quiet and empty so he went to his grandparent's home a few doors down to ask for their help in searching for the family members. * Investigators say they found no sign of gun shots, no sign of stab wounds, and no sign of a break-in! * Cops say that test for Carbon Monoxide were negative! * The family's adult cat and ferret were free to walk in and out of the house. They also found a kitten locked inside a separate room from where the dead bodies were found. All three animals were completely uninjured! Will the forensics and the blood analysis solve this super mysterious case? Leave your comments below and I will read some of them on-air during the show tonight!
Tuesday 30th of September 2014 07:24:26 PM
View All Facebook Posts >>
Popular Movies:
15 Minutes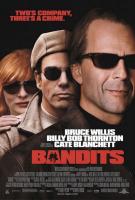 Bandits
Volcano