Jane Velez-Mitchell
Photos:
View All Pictures >>
Facebook:
Jane Velez-Mitchell
ACTION ALERT FOR FLORIDA ANIMAL LOVERS: WATCH VIDEO BELOW.. AND GO TO THIS EVENTS PAGE. This Thursday morning there's a crucial hearing and animal lovers in Florida are urged to attend in LaBelle, Florida! Sign up.. it's just a 30 mile drive from Ft Myers and your eyes and ears are needed for voiceless monkeys.
Be Eyes & Ears For The Monkeys
Florida Animal Lovers: Please attend this hearing! There's a crucial legal battle to determine whether 3,200 monkeys can be shipped in to Hendry County, Florida to supply monkeys to labs for experiments. The monkeys need people to be in court and be their eyes and ears. Please attend. It's very important. Please spread the word and share the event. See more about this here: http://janeunchained.com/2015/03/01/monkey-business-in-florida-sparks-legal-battle-with-a-crucial-court-hearing-this-week-animal-lovers-urged-to-attend-as-eyes-and-ears-of-voiceless-animals/ If you will be attending, please wear a black shirt with a white ribbon to signify your presence on behalf of the monkeys. Thank You!
Sunday 1st of March 2015 06:03:36 PM
Jane Velez-Mitchell
ACTION ALERT FLORIDA ANIMAL LOVERS: A lawsuit has been filed by #AnimalLegalDefenseFund over a proposed monkey facility in Hendry County, Florida. The facility would house 3,200 monkeys and reportedly sell monkeys for laboratory experimentation. This coming Thursday, March 5th at 9:30am in the Hendry County Courthouse in LaBelle, Florida, a Circuit Court Judge will hear Hendry County's motion to dismiss the lawsuit. This is a crucial hearing that could determine the fate of tens of thousands of monkeys. Animal lovers are being encouraged to attend the meeting to be the eyes and ears of the voiceless animals. Hendry County is 65 miles from Ft. Myers, which has a major airport. To reach the Facebook Events Page go to: Be Eyes & Ears For The Monkeys. The story below provides key background information. Please watch and go to JaneUnChained web site for statements from all sides.
Attend Crucial Monkey Hearing in Fla Thursday
Sunday 1st of March 2015 05:03:33 PM
View All Facebook Posts >>
Popular Movies:
15 Minutes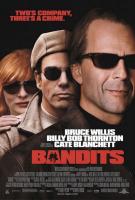 Bandits
Volcano