Barbara Stanwyck
Birth Name:
Barbara Stanwyck
Born:
07/16/1907
Birth Place:
Brooklyn, New York, USA
Death Place:
Santa Monica, California, USA
Died:
01/20/1990
Barbara Stanwyck was born Ruby Stevens on July 16, 1907, in Brooklyn, NY. She endured a rough-and-tumble childhood befitting the fierce heroines she would later play on screen. When Stanwyck was two, her mother died after being pushed from a moving trolley by a drunk. Her father was more interested in drinking and womanizing than raising his children and abandoned his brood to work on the Panama Canal. He was never heard from again. Sadly, neighbors put Ruby and her brothers and sisters into foster homes. It was a grim existence, but even at a young age, Stanwyck did not indulge in self-pity. Between the ages of 11 and 13, she learned to dance while living with her older sister Millie, a sho...
Continue Bio >>
Music:
Listen to Barbara Stanwyck
and similar artists - Play Now
The Ultimate Radio Collection
Latest Tracks:
More Tracks >>
Popular Movies:
The Night Walker
Roustabout
Walk on the Wild Side
The Violent Men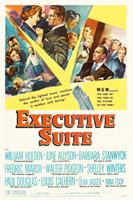 Executive Suite
More Credits >>