Morgan Saylor
Birth Name:
Morgan Saylor
A naturally gifted dramatic actress, Morgan Saylor jump-started her career with a compelling turn on the award-winning drama "Homeland" (Showtime, 2011- ), as the highly perceptive daughter of a U.S. Marine POW who may or may not have been turned into a terrorist. Saylor was born on Oct. 26, 1994 in Chicago, IL but grew up in Atlanta, GA, where she attended Montessori schools. She began performing in community theaters at a young age, before she was signed by a local talent agency. Saylor's television debut was a voice role on the hit series "The Sopranos" (HBO, 1999-2007), followed by an appearance on the short-lived police drama "K-Ville" (Fox, 2007-08). In 2011, Saylor became a series reg...
Continue Bio >>
Photos:
Videos:
Watch Homeland's Morgan Saylor Arm Wrestle with Andrew
What to Expect on the New 'American Horror Story: Coven'
'Homeland' Star Damian Lewis 'Did Not Like' Seeing His TV Daughter Grow Up
Morgan Saylor Talks Homeland Season 3
"Homeland": Sad Chris Brody Is Asked to Leave the Room
Will Claire Danes' Pregnancy Affect Homeland's Season 2?
Popular Movies:
Jamie Marks is Dead
Father of Invention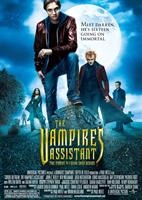 Cirque Du Freak: The Vampire's Assistant