Marielle Jaffe Twitter
MarielleJaffe
Followers: 3,293
Location:
Los Angeles, CA
Bio:
OFFICIAL PAGE
Def listen to it eyes closed with headphones. 👍
Posted at: Wed May 22 05:06:43
No matter what your beliefs are about the lyrics, this song is absolutely breathtaking."Arise" on the Hillsong United Zion album.
Posted at: Wed May 22 05:06:05
WOW! Best Ted Talk I've ever seen! PLEASE WATCH! Especially if ur in your 20s! Meg Jay:Why 30 is not the new 20
http://t.co/8VZWRqdVjU
#TED
Posted at: Tue May 21 20:09:54
Uhm why is it that people are getting pulled out of work to do jury duty when they could hire good people seeking employment? Lol
@tarynzim
Posted at: Mon May 20 20:47:34
@HeyYoItsBrent
Ha! Thanks!! My mama gets all the credit for that one ;) Have an awesome weekend! ☺
Posted at: Sat May 18 06:22:44
Happy Birthday!
@JordanWagner
WE❤YOU
http://t.co/D7fUnDgZMq
Posted at: Sat May 18 06:14:44
Happy birthday to the most incredible man I've ever met.My love & best friend to infinity and beyond🚀
@JordanWagner
http://t.co/wF9kYTTvAO
Posted at: Sat May 18 05:48:38
@reneewatroba
So so proud of you, beautiful!!! Your strength and determination is inspiring! Love you Renee 😘
Posted at: Wed May 15 19:35:05
Love spending time & sharing ❤s w/my girls
@tarynzim
&
@raquellestevens
You two are beautiful inside and out. ☺❤YOU
http://t.co/eNUQhVpaXh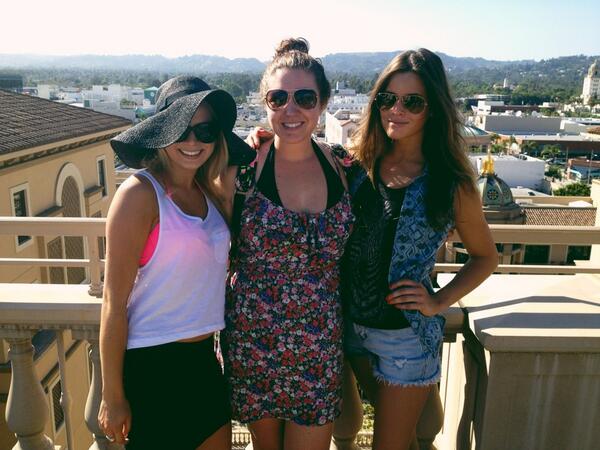 Posted at: Tue May 14 00:11:44
HAPPY BIRTHDAY! Have an amazing year!! RT "
@GavSkank
:
@MarielleJaffe
can I get a happy birthday this year again? 😍🎉"
Posted at: Thu May 09 13:52:51
@KimBiddle
Sissy!! 👯 J and I are in DC too! What's your plan tomorrow for breakfast?? 🍳☕😛
Posted at: Wed May 08 16:24:19
Proud girlfriend watching my❤
@JordanWagner
accept the Humanitarian of the Year Award tomorrow in WashingtonDC#mostincrediblemaninthe🌎ismine
Posted at: Wed May 08 03:16:46
With🎩👒&our own🏇!RT
@JordanWagner
:
@MarielleJaffe
haha what are we thinking?!?! #goldencents obviously gonna win.We'll be there in style 2014
Posted at: Sat May 04 19:55:31
@JordanWagner
How are you in Seattle while I'm in Texas when clearly we should both be in Kentucky!!? It's DerbyDay baybayy!! 🏆🏁🏇🏇🏇
Posted at: Sat May 04 16:17:38
Having such a fun weekend with
@HollyWagnerLA
in Texas for the Fellowship women's conference. #Everythingsbiggerintexas #GodsHUGEouthere!! 😝
Posted at: Fri May 03 22:55:09
Visit Twitter.com for older tweets
Browse More Actresses:
#
A
B
C
D
E
F
G
H
I
J
K
L
M
N
O
P
Q
R
S
T
U
V
W
X
Y
Z