Gina Carano
Birth Name:
Gina Carano
Born:
04/16/1982
Birth Place:
Dallas County, Texas, USA
Born Gina Joy Carano in Dallas County, TX on April 16, 1982, she was the daughter of former Dallas Cowboys quarterback Glenn Carano and his wife, Dana. A natural athlete throughout her school years, with a state title in basketball for Las Vegas' Trinity High School to her credit, Carano also learned at an early age to defend herself in fights, whether in school or on the court. Forced to turn down college scholarships in basketball and softball in order to remain close to home and help her sister through personal difficulties, she settled into a psychology major at the University of Nevada Las Vegas, but found herself stifled without a physical outlet. Her then-boyfriend, top-rated Muay Tha...
Continue Bio >>
Photos:
View All Pictures >>
Videos:
First Look at Ryan Reynolds' Deadpool Costume
Gina Carano Joins 'Deadpool' Movie
'Ready Player One' Movie Update and 'Magnificent Seven' Casting News
Gina Carano Plans Her Return To The Octagon
Gina Carano Plays 'Fighting Term Or Cocktail?'
Haywire Movie Review for Parents
Facebook:
Gina Carano
Did anyone else start to think of what they're going to be for Halloween today. 👻
Mobile Uploads
Tuesday 1st of September 2015 08:42:39 PM
Gina Carano
Yesterday in Keller, Texas, I met this incredible 10 year old girl named Desmina who was diagnosed with stage four cancer, she has a surgery this morning.. Her and her family have a quiet strength, beauty and intelligence that I was so honored to be around for the moments we got to spend together. The community who came out to support and show her love brings tears to my eyes. My heart has been permanently touched. 💖 (She drew me a picture of Stewie from Family guy and her brother Bodhi drew me a couple bunnies while both of them shared some of the most interesting facts about life, Armadillos and what lip stick is actually made of) might I add these kids have the coolest names. I just adore this entire family. Thank you, Grant Gunderson for organizing the Kevin Ross seminar and thank you for everyone who showed up and gave their support.
Mobile Uploads
Monday 3rd of August 2015 11:03:50 AM
View All Facebook Posts >>
Popular Movies:
Furious 7
In the Blood
Fast & Furious 6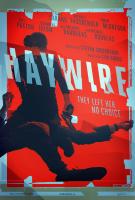 Haywire
I Am Bruce Lee
More Credits >>