June Allyson
Birth Name:
June Allyson
Born:
10/07/1917
Birth Place:
Bronx, New York, USA
Death Place:
Ojai, California, USA
Died:
07/08/2006
Allyson later matured into supportive wife roles in the 1950s ("The Stratton Story" 1949, "The Glenn Miller Story" 1954, "Strategic Air Command" 1955), switching gears once to play the shrewish wife in "The Shrike" (1955). When her film career petered out in the late 50s in ill-advised remakes of such 30s successes as "It Happened One Night" ("You Can't Run Away From It" 1956) and "My Man Godfrey" (1957), she turned to starring in a TV anthology drama, "The June Allyson Show", from 1959 to 1961. In later years Allyson did very occasional TV and film work and regularly made appearances in public and in the media to speak of the pleasures of the old Hollywood studio system (as in "That's Enter...
Continue Bio >>
Music:
Listen to June Allyson
and similar artists - Play Now
The Vintage Radio Shows
Latest Tracks:
More Tracks >>
Popular Movies:
That's Entertainment! III
They Only Kill Their Masters
My Man Godfrey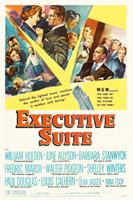 Executive Suite
More Credits >>