Melvin Van Peebles
Birth Name:
Melvin Van Peebles
Born:
08/21/1932
Birth Place:
Chicago, Illinois, USA
Born on Aug. 21, 1932 in Chicago, IL, Van Peebles was raised in a working class home headed by his tailor father. Having endured regular beatings at the hands of fellow classmates as a child, Van Peebles joined the ROTC and attended Ohio Wesleyan University, before spending three years serving as a navigator and bombardier in the U.S. Air Force Strategic Air Command starting in 1954. After leaving the Air Force, he lived in Mexico where he worked as a portrait painter and met his wife, photographer Maria Marx. The couple soon gave birth to future actor and director, Mario Van Peebles, before moving back to the United States, where the elder Van Peebles made his first short films - "Sunlight"...
Continue Bio >>
Music:
Listen to Melvin Van Peebles
and similar artists - Play Now
The Last Transmission (Instrumentals)
The Last Transmission
Watermelon Man
Latest Tracks:
More Tracks >>
Photos:
Popular Movies:
Peeples
Freakonomics
American Swing
Confessionsofa Ex-Doofus-ItchyFooted Mutha
How to Eat Your Watermelon in White Company (and Enjoy it)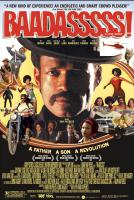 Baadasssss!
The Hebrew Hammer
Jim Brown: All American
Panther
More Credits >>