Robert Preston
Birth Name:
Robert Preston
Born:
06/08/1918
Birth Place:
Newton Highlands, Massachusetts, USA
Death Place:
Santa Barbara, California, USA
Died:
03/21/1987
Upon returning to films in the 1960s Preston performed zestfully in the film for which he is best remembered, "The Music Man" (1962), in which he recreated his stage role of an endearing huckster turned unexpectedly successful bandleader. Late in life Preston also garnered praise for two highly amusing performances in the Blake Edwards farces, "SOB" (1981) and "Victor/Victoria" (1982).
Music:
Listen to Robert Preston
and similar artists - Play Now
The Iphone T.V. Advert Collection
Mack & Mabel- 1974 Original Broadway Cast
I Do! I Do!: The Original Broadway Cast Recor…
Latest Tracks:
More Tracks >>
Popular Movies:
The Last Starfighter
Victor/Victoria
S.O.B.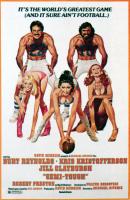 Semi-Tough
Mame
Junior Bonner
The Last Frontier
More Credits >>