Gordon MacRae
Birth Name:
Gordon MacRae
Born:
03/12/1921
Birth Place:
East Orange, New Jersey, USA
Death Place:
Lincoln, Nebraska, USA
Died:
01/24/1986
Albert Gordon MacRae (March 12, 1921 – January 24, 1986) was an American actor and singer, best known for his appearances in the film versions of two Rodgers and Hammerstein musicals, ''Oklahoma!'' (1955) and ''Carousel'' (1956).
Music:
Listen to Gordon MacRae
and similar artists - Play Now
Gordon & Jo
Greatest Hits
Gordon Macrae
High On A Windy Hill - The Great Hit Sounds O…
Essential Duets
3 Sailors And A Girl (An Original Soundtrack …
Highlights From The World's Greatest Operetta…
Operetta Favourites
Sings For You
All Albums >>
Latest Tracks:
More Tracks >>
Popular Movies:
The Pilot
Carousel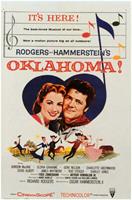 Oklahoma!
More Credits >>