Michel Gondry
Birth Name:
Michel Gondry
Born:
05/08/1963
Birth Place:
Versailles, , FR
Born on Jan. 1, 1964 in Versailles, France, Gondry was exposed to the arts early in life. His grandfather, Constant Martin, invented the Clavioline, one of the earliest keyboard synthesizers, while his father was a computer programmer and his mother an accomplished pianist. Inspired to become either a painter or inventor, he stumbled onto photography at 12 years old and even made a prototype for a cartoon machine using a Meccano construction set. Also a fine illustrator, Gondry would amuse his schoolmates by teaching them how to draw naked women. Meanwhile, after finishing his primary and secondary studies, he attended art school to pursue graphic design. At 22, Gondry discovered filmmaki... Continue Bio >>


Photos:
Music:
Listen to Michel Gondry
and similar artists - Play Now
You'll Like This Film Because You're In It: T…
Latest Tracks:
More Tracks >>
Popular Movies:
Microbe et Gasoil
Is the Man Who Is Tall Happy?
Mood Indigo
The We and the I
The Green Hornet
Be Kind Rewind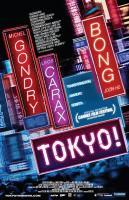 Tokyo!
Dave Chappelle's Block Party
The Science of Sleep
More Credits >>