9/11 Victim's Family Angry At Voicemail's Use In 'Zero Dark Thirty'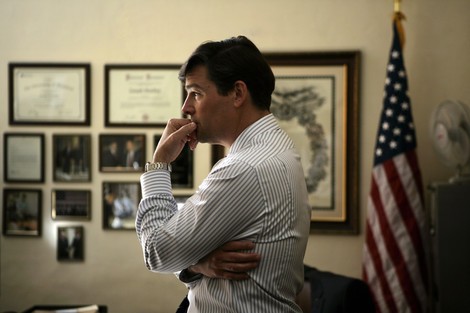 Filmmakers behind "Zero Dark Thirty" used a recording of a man's final call to his family on 9/11 in the movie without her permission, and the family isn't happy about it.
When Mary Fetchet discovered the voicemail her son Bradley, who worked in the World Trade Center, had left for his relatives on that fateful morning were featured in the opening scenes of the drama, she was devasted. The film also included other last calls made by victims of the 2001 tragedy.
 
The message was used in testimony for an official U.S. government investigation into the attacks, and it was subsequently used in various TV news reports, but Fetchet didn't give permission for "Zero Dark Thirty" moviemakers to use it. The film chronicles the decade-long hunt for terrorist leader Osama bin Laden, who masterminded the attacks.
 
Fetchet told CBS news, "My first thought was, 'Isn't anything sacred any more?' I used it in situations where I wanted to convey Brad's story. None of those situations were used for promotional or professional or commercial endeavours."
 
A representative for the film's distributor, Sony, and studio, Annapurna Pictures, claims attempts to reach out to all family members were made before the movie's release last year and insists the opening scenes were created as a "tribute" to those who lost their lives in the attacks on New York.
 
Fetchet isn't the first to publicly condemn director Kathryn Bigelow and screenwriter Mark Boal for failing to seek the proper authorization to use audio recordings of victims' final phone calls in the movie - the brother of American Airlines flight attendant Betty Ann Ong, who perished when her plane crashed into the North Tower of the World Trade Center on 9/11, also recently criticized the insensitive move.
 
Harry Ong told the New York Times, "I thought it was just outrageous, and totally poor judgment, and an abuse of the voices."
 
Both Fetchet and Ong have demanded a formal apology from moviemakers.