90210 'The Bubble' Episode Four

Last night we finally found out who fathered Kelly's son. Kelly bounced between Dylan and Brandon for the entire original Beverly Hills,
90210
run. Although, bounced is sort of an exaggeration because Brandon never really had a chance. Dylan is the father of Kelly's son. It's sort of sad that he's the absentee father he had as a kid, but it makes sense because I think Brandon would never have left his child.
When the play's director takes a leave of absence, Annie's grandmother volunteers and her dad thinks this is a good idea. Annie's grandmother is in her own private theatre world until Kelly brings Brenda in to help. Brenda runs over to the high school because she has nothing better to do than baby-sit Kelly's son on demand and direct high school plays. Brenda manages to get the Wilson's grandmother to let her take over without having to try all that hard.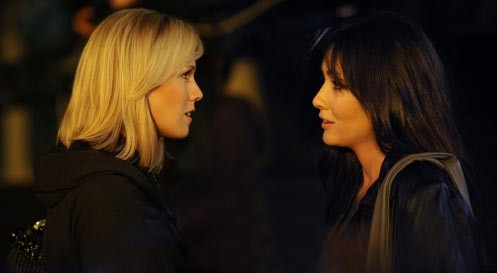 The plus to having Brenda at the school is that Ryan tries talk to her. This is why I miss the older and cattier original. Brenda talking to Kelly's new guy on the original series would have revealed something better than the fact that Kelly and her son's dad have a lot of history. Instead of new dirt, Brenda just tells him to talk to Kelly. Kelly finds out that Ryan tried to talk to Brenda and goes to find her. I don't know if Ryan and Kelly are still dating but I know it's getting difficult to care. They have a weak confrontation and Brenda name-drops Dylan. Finally. If this had happened earlier in the episode, I could have turned the television off. Instead, I got to watch the Ethan/Annie/Naomi/Ty love square.
This week, Ethan asks Annie on a date and she accepts. A few minutes later, Ty gives a weak apology for texting a goodbye on their last date. He wants to take her out on Thursday too. Annie turns Ty down and Silver says what everyone else is thinking. Annie's not coming between Ethan and Naomi that easy, even if they're broken up.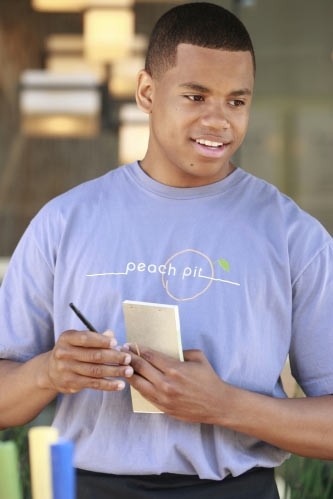 Speaking of Naomi, the best part of Naomi's family drama this week isn't that her dad's mistress moves into their beach house. The highlight of life at Naomi's house comes when the family Photoshops her older sister into their Christmas card picture. Naomi goes over to Ethan's and we find out he has an autistic brother Stephen. Just as I suspected she's really nice to his brother so that Ethan will listen to her problems. He even rides along while she tries to mean-girl her dad's mistress out of their lives. Really Naomi? Ethan could have tried a little harder to talk her out of it.
Annie sits around at Peach Pit and waits on Ethan, who's at home with Naomi and his brother. Ethan texts Annie an apology, but she gets it after Ty comes in and sees her sitting alone.
As for the other Wilson, Dixon starts working at Peach Pit after he crashes the minivan into a much nicer car. He lies to his parents successfully about why he wanted a job until his grades start to slip. When his dad finds out he's proud that he tried to take responsibility and pays up.
Dixon pays the guy back and he invites him to a Lakers game. He says something about grudges to Silver that makes her agree not to post anything about Naomi's parents. Dixon and Silver still haven't made plans resembling a date, but he should be having more free time now. I think the conversations between the two of them are less painful, because they have actual issues, like his adoption and her mother's alcoholism. Maybe they'll have a date next week.
Ethan tries to apologize to Annie, but she blows him off. Then Ty blows her off. This is getting old. Annie bakes Ty snickerdoodles and kisses her way to forgiveness. She could have just made out with him, since the cookies are probably headed for the dumpster. They make plans for the weekend. Naomi thanks Ethan and says she wants to start over. They kiss and makeup. I'm excited for the episode when Naomi catches Ethan with Annie, because that's definitely coming. But we'll pause the love square for now.
What did you think of this week's episode? Leave a comment below!
Stay tuned to Starpulse.com for weekly 90210 recaps!
90210 Cast Pages:
Ryan Eggold
/
Shenae Grimes
/
Tristan Wilds
/
Jessica Stroup
/
Annalynne McCord
/
Dustin Milligan
/
Rob Estes
/
Lori Loughlin
/
Jennie Garth
Story by
Lauren Attaway
Starpulse contributing writer