'90210' Star Michael Steger Gives Us The Scoop On The Second Half Of The Season

West Beverly High is back in session. When "90210" returns on March 9th, we'll see characters settling old scores and stirring up brand new drama. We spoke with cast member Michael Steger, who has been charming viewers for the past two years as high school journalist and all-around good guy, Navid Shirazi. Michael filled us in on what fans can expect to see this season, and talked about his big plans on and off the show.
When "90210" left off, Navid was recovering after Jasper, the slimy drug dealer pushed him down a flight of stairs. Now, we'll get to see him take action and devise a plan to catch Jasper and get him kicked out of school. "People will get to see Navid's tough side," says Steger. "They'll get to see him stand up for himself, break up with Adrianna, and get himself a new girl."     
Fans may be disappointed by that last bit of news. Since Navid and his pregnant, drug-addicted dream girl Adrianna got together last year, they became THE COUPLE to root for almost immediately. But for now, Navid and Adrianna (NavAd?) will be going their separate ways. Also, as Entertainment Weekly first reported back in October, Adrianna will be changing teams and hooking up with Rumer Willis' character, Gia. Steger tells us that while Navid will also meet someone, his ex's new relationship does throw him for a loop. "He's like, what's going on here? Did I do something to make her not like men? So he's questioning his manhood a little bit," Steger says of his character. Nonetheless, he tells us that Navid will find have a new love interest of his own. He'll fall for Lila, a star reporter who works on the school's newscast, the Blaze with him.
As for the rest of the cast and Jennie Garth's recent statement that she's not really doing 90210 anymore? Steger confirmed that the show would mainly focus on the new class at West Beverly High moving forward. "They're going in the direction of real high school kids now. I think for awhile there were so many directions they were trying to go and now they're focusing more on the demographic that really watches the show."  
One West Bev alum who has already decided on her next move is Shannen Doherty, who will be on "Dancing with the Stars" this season. Steger said he'd check it out, but assures fans he has no plans to follow in her footsteps and appear on the show anytime soon.
Instead, he'd prefer to look for more projects like the independent film "Assisting Venus" that he filmed over an intensive three week period last summer. Though the experience was tough, Steger speaks with clear admiration about filmmaking and the creative process. He'd love to do more films, but also admits, "depending on the script or character, any medium can be a great medium." Coming from a guy who turned down a TV job at the last second to work with legendary film director, Tim Burton on The Killers music video for the hit single, "Bones," Michael Steger speaks from experience.
Now that "90210" is done filming for the season, Steger is looking for his next project. And while he plans his next move, fans can catch Navid and the rest of the gang on "90210" every Tuesday night on the CW.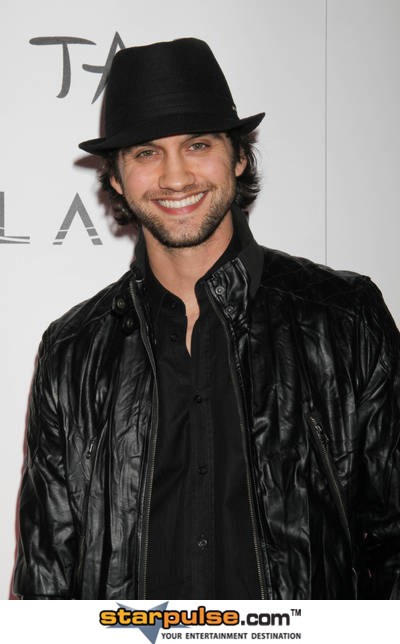 Story by Elissa Farkas
Starpulse contributing writer